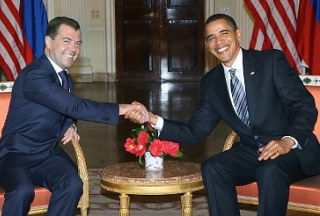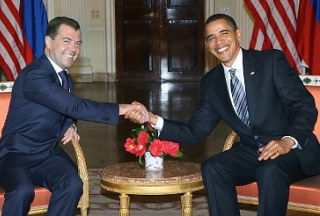 US President Barack Obama and Russian President Dmitry Medvedev have tried to hammer out the differences that saw the relationship between the two countries 'drifting'.
Acknowledging the disparity of views between Washington and Moscow, Obama noted that he and Medvedev agreed on a number of economic and military issues.
In a joint press briefing Obama also reiterated that there will be no change in the US war policy in Afghanistan after a-day-old change in military leadership.
"What we saw yesterday was a change in personnel not a change in policy," he said
The US president announced that he supports Medvedev's bid to join the World Trade Organization (WTO), asserting that Russia's addition to the WTO would be good for the US, good for Russia and good for the global economy.
"To deepen Russia's integration into the global economy, I reaffirmed our strong commitment to Russia's ascension to the World Trade Organization," Reuters quoted Obama as saying on Thursday.
Russia has long desired membership of the World Trade Organization but the US in the past insisted Moscow must do more to safeguard intellectual property rights.
The two leaders also expressed hope that their countries would soon ratify a new strategic arms reduction pact that was signed in Prague on April 8.
The new strategic arms treaty calls for the reduction of nuclear warheads to 1,550 on each side and that the number of deployed and non-deployed delivery vehicles must not go beyond 800 on each side.
"Our country is more secure and the world is safer when the US and Russia get along well together," Obama said.
The improving US-Russia ties come after Moscow sided with Washington in supporting an anti-Iran sanctions resolution in the UN Security Council despite an earlier opposition to the US-proposed sanctions.