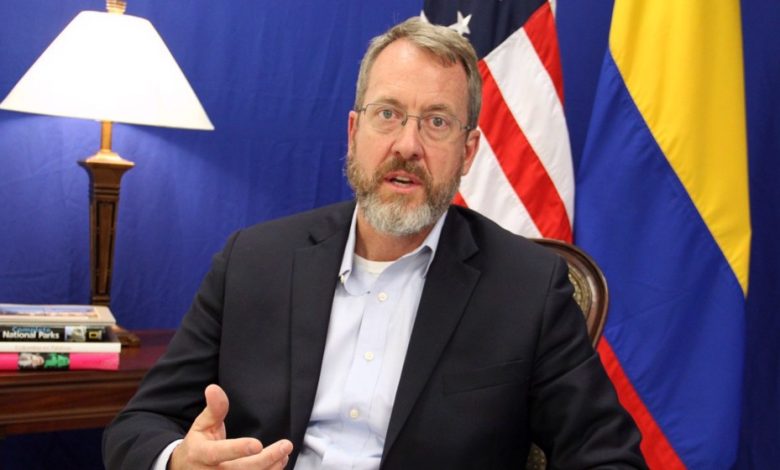 The US Senate appointed James Story as Washington's ambassador to Venezuela, on Wednesday.
This is the first time in ten years that the US is sending an ambassador to Caracas. The two sides have not exchanged ambassadors since 2010 when relations first started to fray under Venezuela's late President Hugo Chavez.
Caracas and Washington eventually broke diplomatic ties last year after the Donald Trump administration backed opposition figure Juan Guaido as the country's legitimate president.
The newly appointed US ambassador continued Washington's hardline approach toward Venezuela on Thursday, dashing hopes for a change in the Trump administration's stance toward the South American country.
In a 30-minute conversation on Facebook Live called 'Aló, embajador' (Hello, ambassador), Story expressed his support for Guaido.
"We are going to continue with the pressure and we are going to support the democratic forces and civil society in Venezuela," he said in the conversation.
Story also called Maduro's government an "authoritarian regime" and criticized Venezuela's forthcoming elections in December.
"While there are energy, gasoline, oil production, medicine problems and the lack of a response to the pandemic, this regime wants to commit fraud in the Dec. 6 parliamentary elections," he claimed.
"We believe in elections. But what kind of elections? We support interim President Juan Guaido, and the international community will not recognize this fraud, and neither will Venezuelans."
The Trump administration has increased sanctions on Maduro's government in recent years in an effort to pressure the Venezuelan leader to step down.
But critics say the heavy sanctions have failed to remove Maduro from power and made life harder for people living in Venezuela.
Story had previously led an American virtual embassy while serving as chargé d'affairs for the Venezuela Affairs Unit in Bogota, the capital of Venezuela's neighbor, Colombia, where he would carry out the job. He said he hopes to return to Caracas to do his job.
Over the past few year the US has stepped up its anti-Maduro push by lending support to Guaido in his bid to topple the elected government in Caracas.
It has imposed harsh economic sanctions on the oil-rich country and confiscated its state oil assets based in the US, channeling the funds to Guaido.
Maduro, who has repeatedly accused Washington of openly pushing for a coup in the country, blames Washington for an economic war which has led to hyperinflation and widespread shortages of food and medicine in Venezuela.
Some believe that Trump's election defeat marks the end of the hardline pressure policy designed to oust Maduro, and the arrival of Democratic President-elect Joe Biden in the White House in January could pave the way for a new course of policy regarding Venezuela.
Venezuelans, however, say that Biden's presidency will not improve Washington's foreign policy toward other nations, including those in Latin America.