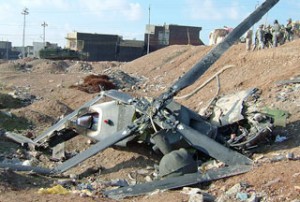 A US army helicopter has crashed near the German city of Darmstadt, killing at least three people, a spokesman for the firefighters said.
The exact number of people in the helicopter and the cause of the crash were not immediately known.
The helicopter went down about 6:20 p.m. on Wednesday in northeast of Manheim, between Frankfurt and Heidelberg, in the vicinity of the US military's Coleman Barracks, military officials said.
A US army spokesman confirmed the accident and identified the helicopter as a Blackhawk. He did not give other details.
About 100 rescuers were reportedly at the site of the crash but the investigation was being carried out by US military.