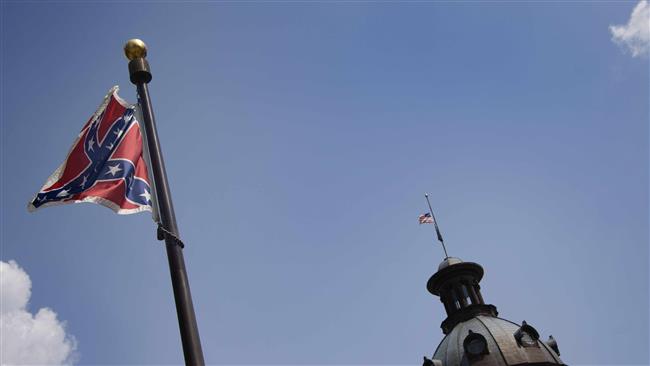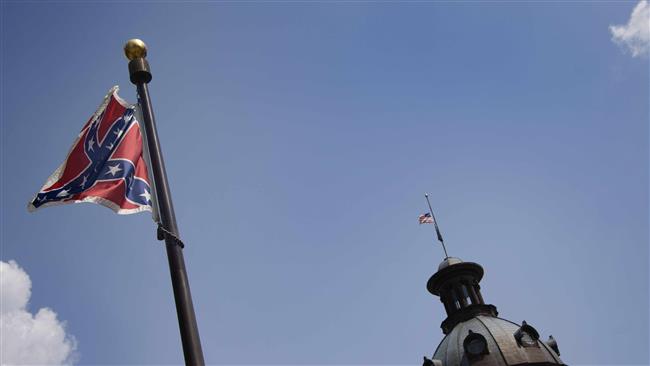 Black lawmakers in the US Congress have urged a ban on the use of the Confederate flag on any government property.
Members of the Congressional Black Caucus (CBC) drafted a resolution on Thursday following last week's deadly shooting at Emanuel African Methodist Episcopal Church in Charleston, South Carolina, that killed nine African-American worshipers.
"A hate crime of this nature must lead to effective legislation that will curtail similar incidences in the future," CBC Chairman G.K. Butterfield (D-N.C.) said in a statement.
The resolution also calls on the South Carolina legislature to pull down the Confederate flag from the state buildings.
On Monday, Governor Nikki Haley said the controversial Civil War-era flag should be removed from the state house grounds in Columbia in the wake of the June 17 shooting.
The Confederate battle flag was first raised atop the South Carolina State House in 1962, as part of the US Civil War centennial commemoration.
The Confederate States of America was an unrecognized confederation of secessionist US states whose regional economy was mostly dependent upon agriculture, which in turn largely relied upon the labor of black slaves.
Last week, hundreds of protesters in South Carolina pushed for state lawmakers to follow a call by Governor Haley to remove the flag after 21-year-old Dylann Roof slaughtered nine African-American worshipers, including a state senator.
Across America there has been a growing outcry for the flag to be removed since Roof, who is a white supremacist, appeared in photos holding Confederate flags and burning or desecrating US flags.
"We acknowledge that demanding the removal of these hurtful images and symbols that represent decades of hatred and oppression is only the first step in addressing the racism plaguing our country, but we must also acknowledge that symbols matter," said Rep. Emanuel Cleaver (D-Mo.), a former CBC chairman.