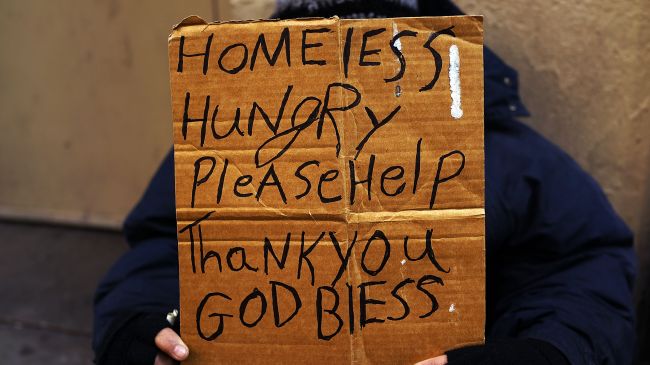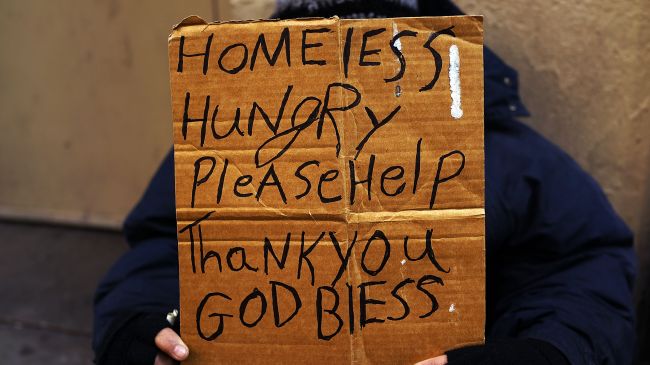 A survey of 25 US cities has offered a picture of the state of hunger in the country as homelessness and requests for help are on the rise.
A survey of mayors, conducted by the US Conference of Mayors, has shown that requests for emergency food aid in 25 big cities, located in 18 states and the District of Columbia, have increased by an average of 7 percent compared with the previous period one year earlier.
Between September 2012 and August 2013, all the cities studied, except four cities, reported a rise in requests for help.
"There's no question that the nation's economy is on the mend, but there's also no question that the slow pace of recovery is making it difficult — and, for many, impossible — to respond to the growing needs of the hungry and the homeless," said Tom Cochran, the executive director of the US Conference of Mayors.
Some 43 percent of those who asked for emergency food aid were employed, 9 percent were homeless, and 21 percent were elderly.
The main reason for the increased hunger in US cities was unemployment, followed by low salaries, poverty, and a high cost of housing.
Meanwhile, homelessness increased by an average of 4 percent in the cities surveyed, which included Washington, D.C., Los Angeles, Chicago, Memphis, Nashville, Philadelphia, and San Francisco.
The growing number of hungry people in major US cities comes as food stamps for millions of American people were cut across the country after a food assistance law expired on November 1.
During a speech on December 4 in Washington, D.C., US President Barack Obama acknowledged the US economy has become "profoundly unequal," which he described as a "fundamental threat" to the American society.