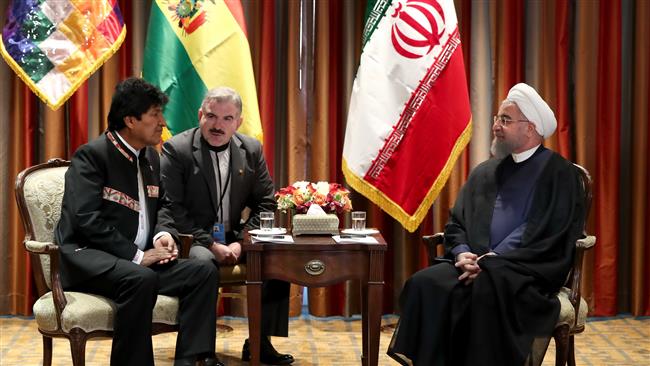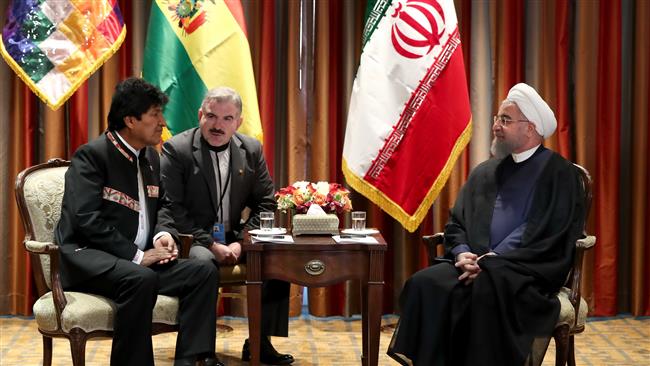 Iranian President Hassan Rouhani says the United States has failed to remain committed to any of its international obligations, stressing that Washington is not a reliable country.
"Today, you can see that the US is trampling on its agreements with Cuba and other countries one after the other," Rouhani said in a meeting with Bolivia's President Evo Morales in New York on Monday.
Rouhani pointed to the White House's intention to undermine the historic nuclear deal, known as the Joint Comprehensive Plan of Action (JCPOA), reached between Iran and the P5+1 group of countries, and said, "On the nuclear agreement, the Americans are looking for excuses and the world can see what Iran has repeatedly announced is true that the US is not reliable."
Iran and the five permanent members of the United Nations Security Council – the United States, France, Britain, Russia and China – plus Germany signed the nuclear agreement on July 14, 2015 and started implementing it on January 16, 2016.
Under the JCPOA, Iran undertook to put limitations on its nuclear program in exchange for the removal of nuclear-related sanctions imposed against Tehran.
US President Donald Trump, who had made no secret of opposing the nuclear agreement in his election campaign, has threatened to "tear up" the agreement, calling it "the worst deal ever negotiated."
The United State, which is a party to the landmark nuclear agreement, seems to be laying out a case for abandoning it.
Elsewhere in his remarks, the Iranian chief executive, who is in New York to take part in the 72nd annual session of the United Nations General Assembly, said Iran and Bolivia had a common stance against the hegemonic powers.
"The US is drawing up new plans and plots against developing countries on a daily basis, but it has always faced defeat," Rouhani added.
He noted that the US has been seeking to use terrorism as a means in the Middle East, but regional nations, particularly the Iraqi and Syrian people, are defeating the vicious scourge, emphasizing that terrorism is on the verge of full elimination in the region.
The Bolivian president, for his part, said the US had always pursued hostile policies in the world, particularly toward the Latin American countries, adding that the hegemonic powers sought to divide allied nations.
Morales urged independent countries in the world to boost their relations and act in unison.