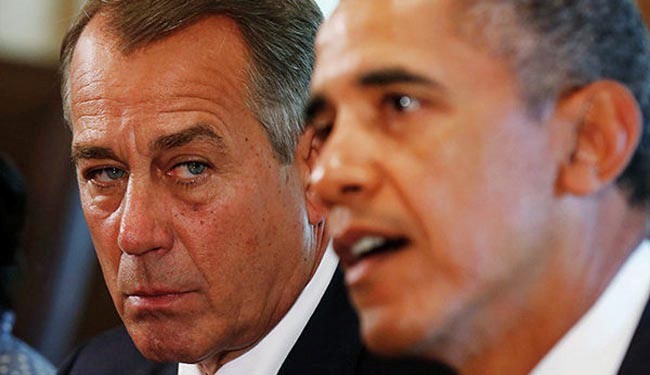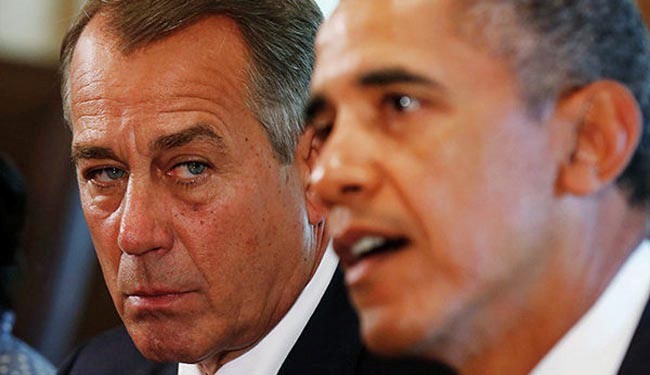 As the U.S. government moved into the second week of a shutdown on Monday with no end in sight, a deadlocked U.S. Congress also confronted an October 17 deadline to increase the nation's borrowing power or risk default.
Republican House of Representatives Speaker John Boehner vowed not to raise the U.S. debt ceiling without a "serious conversation" about what is driving the debt, while Democrats said it was irresponsible and reckless to raise the possibility of a U.S. default.
The last big confrontation over the debt ceiling, in August 2011, ended with an 11th-hour agreement under pressure from shaken markets and warnings of an economic catastrophe if there was a default.
A similar last-minute resolution remains a distinct possibility this time.
Equities investors were unnerved by the apparent hardening of stances over the weekend, with European shares falling to a four-month low on Monday. U.S. stock futures pointed to lower open, with S&P 500 futures down nearly 1 percent.
In comments on Sunday television political talk shows, neither Republicans nor Democrats offered any sign of impending agreement on either the shutdown or the debt ceiling, and both blamed the other side for the impasse.
"I'm willing to sit down and have a conversation with the president," said Boehner, speaking on ABC's "This Week." But, he added, U.S. President Barack Obama's "refusal to negotiate is putting our country at risk."
On CNN's "State of the Union" program, Treasury Secretary Jack Lew said: "Congress is playing with fire," adding that Obama would not negotiate until "Congress does its job" by reopening the government and raising the debt ceiling.
China, the biggest holder of U.S. Treasuries, urged Washington to take decisive steps to avoid a crisis and ensure the safety of Chinese investments.
China held $1.277 trillion of U.S. Treasuries as of last July, according to U.S. Treasury data released month.
Democratic Senator Charles Schumer, whose constituency includes Wall Street and New York's financial hub, said Boehner would be forced to act as the deadline for the nation's debt ceiling gets closer, calling it "too dangerous" to not raise the U.S. debt limit and saying any default could lead to an economic "recession, depression or worse."
"The economy could collapse. Will it? No one's certain, but there's a high enough chance that no one – no one – should risk it," Schumer told CNN's "New Day."
The two issues of the Federal government shutdown and the debt ceiling started out separately in the House but have been merged by the pressure of time.
Conservative Republicans in the House have resisted funding the government for the current fiscal year until they extract concessions from Obama that would delay or defund his signature healthcare law, which launched October 1.
Agreement in the Senate would send the tangle of issues back into the House, where the Republican caucus has adopted a hard line on both Obamacare and the debt ceiling.
There may be enough votes in the House to pass a clean bill, according to some analysts. That would require almost all of the House's 200 Democrats and about 20 of its 232 Republicans to vote in favor. But taking such a vote would require Boehner to violate his policy against bringing a vote on any legislation favored by less than a majority of House Republicans.