Human Rights
North America
World News
US crackdown on prisoners amid COVID-19 pandemic puts inmates on edge
US authorities' crackdown on prisoners during the fast-growing COVID-19 pandemic is putting inmates on edge amid concerns that the so-called correctional facilities are acting as petri dishes for the novel coronavirus.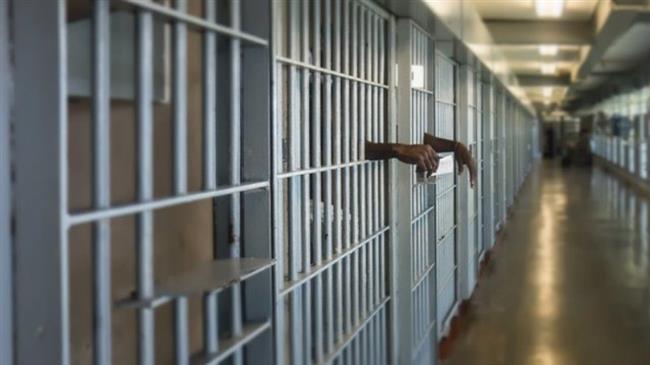 Various media reports on Wednesday pointed to little or no efforts made by corrections officials to address the outbreak.
"The conditions are filthy. They are not giving us masks. The only thing they are doing is taking our temperature," inmate Travis Gary was cited by The Baltimore Sun, as saying in a recent phone interview from the Baltimore City Correctional Center, where he's been held on weapons and drug charges since 2017.
About 300 inmates at Chicago jail test positive for coronavirus Almost 300 inmates at a Chicago prison have tested positive for the novel coronavirus.
Not taking sufficient steps to protect American inmates appears to be leading to more protests in prisons.
US prison officials thwarted a prison riot triggered by the growing fear among inmates over the spread of the deadly virus at the Lansing correctional facility in Kansas.
With dozens of prisons grappling with rapid COVID-19 spread through overcrowded quarters, the number of cases and deaths officially reported are on the rise.
US prisons biggest source of corona cluster infection in America The number of infected inmates of prisons and staff in the United States is quickly surpassing infections in senior centers and cruise ships.
At least one inmate and one corrections officer died after contracting COVID-19 in prisons run by the Ohio Department of Rehabilitation and Corrections (ODRC).
So far, 146 inmates and119 staff members have tested positive in the facility.
"Locking down prisons, where there is no room to keep a safe distance from others, will not help save lives in prisons, and could actually make conditions worse given the fact that there are nearly 49,000 people in facilities designed for 38,000," said Piet van Lier, a researcher with the liberal think tank Policy Matters Ohio. "The total of 205 people the governor has recommended for release won't create the kind of conditions or flexibility needed to flatten the curve in prisons, which is what's needed to protect incarcerated people, prison workers and the broader community."