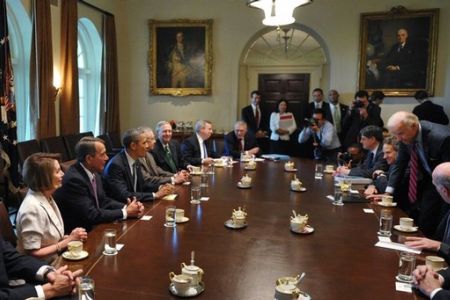 Credit rating agencies have placed US credit performance on negative watch as another day of inconclusive debt talks in Washington came to a close amid persisting political wrangling.

On Thursday, Dagong Global Credit Rating Co., Ltd., a rating agency from China, the largest foreign holder of US government debt, warned that it is putting the credit rating of the United States on negative watch for a possible downgrade. The announcement came after Moody's Investors Service took a similar measure earlier in the day.
Meanwhile, Standard and Poor's, another rating agency, has cautioned that America's credit rating may be downgraded over an increasing risk of a payment default.
Also on Thursday, the International Monetary Fund (IMF) urged the United States to raise its debt ceiling and improve its fiscal sustainability over the long run, the latest such warning from the global lender.
The warnings come as US President Barack Obama and congressional leaders failed to reach an agreement over the government's looming debt default on the fifth day of talks at the White House on Thursday.
The US government faces a debt default if an agreement on raising its borrowing limit is not reached between lawmakers and the White House by August 2. Democrats and Republicans have been at odds over how to curb the country's massive debt and reduce its budget deficit.
"I'm happy to consider all alternatives, but the things that I will not consider are a 30-day or a 60-day or a 90-day or a 180-day temporary stop-gap resolution to this problem," Barack Obama said on Tuesday. He also warned Republicans against playing political games.
"This is the United States of America. Here we don't risk US default on our obligations because we can't put politics aside," he added.
The US debt ceiling is capped at 14.3 trillion dollars and the administration says that if it is not elevated by August 2, the government would default on its obligations.
Some financial experts believe that the fact that US officials are talking about default indicates that it is eventually inevitable. The question, however, is what form the default will take and when it will happen.
President Obama plans to hold a news conference on Friday to address the status of negotiations to increase the nation's debt ceiling.
It will be Obama's second news conference this week on a subject that has become one of the biggest preoccupations of Obama's presidency.