North America
US embassy employee targeted in racial attack in Berlin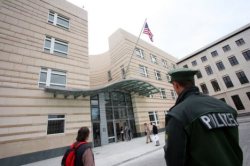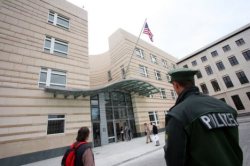 An employee of the US embassy became the victim of an apparent racial assault in Berlin, the daily Berliner Morgenpost reported Thursday.
The attack, targeting an Afro-American, took place on August 26 following a first division match of Bundesliga club Hertha Berlin.
The assailant deliberately bumped into the victim who was doused with beer and
verbally assaulted with racial slurs.
Germany has time and again witnessed brutal racist and xenophobic attacks in
recent years as the center-right government of Chancellor Angela Merkel has
tried to downplay the problem.
Most of the racial assaults are committed by mostly young-Neo-Nazis who live in
what used to be formerly communist East Germany.
The German government has been under fire for not really cracking down on far-right violence which is aiming at mostly foreigners and leftist activists.
Young neo-Nazis feel more and more emboldened to commit hate crimes, knowing that police won't charge them with an offense.
Most of the suspects implicated in far-right crimes are juveniles.
Hate crime experts and sociologists have repeatedly stressed Germany's political leadership lacked a clear and effective strategy to really combat neo-Nazi crimes.