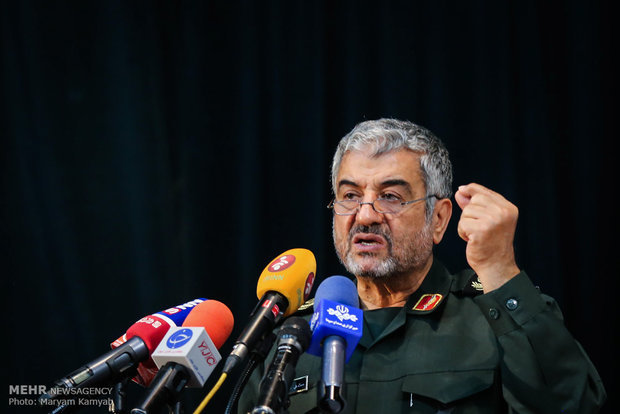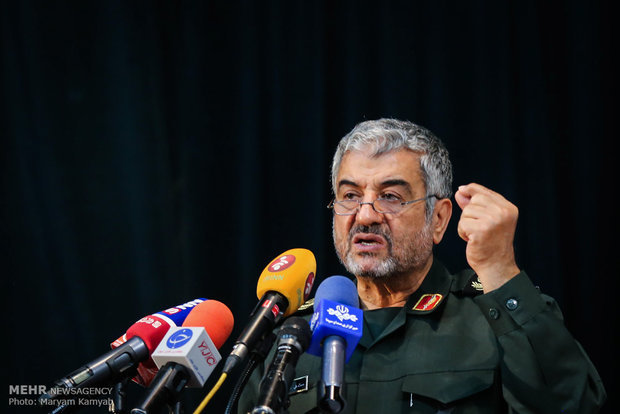 The US failure in its economic war against Iran even can be seen in the words of Western analysts, according to the Islamic Revolutionary Guard Corps (IRGC) Commander Major General Mohammad Ali Jafari on Thursday.
"We have witnessed the continuation of global arrogance's failures in defense, military, security, political and economic programs," Major General Mohammad Ali Jafari said on Thursday in Falavarjan County in central Isfahan province.
Jafari said that the Iranian nation is defeating the enemies in the economic war and even their analysts admit that.
"Tehran won't 'remain passive' if US poses any threats and sanctions, and it is likely that the pressures [on Iran] would have adverse effects", the IRGC commander quoted a Western analyst, emphasizing that they have themselves confessed to their defeats.
He quoted another western scholar as saying that the Leader of the Islamic Revolution Ayatollah Khamenei is a man of crisis management, stressing that the Leader's spiritual power will help the Iranian nation to deal another blow to the enemies once again.
Jafari ridiculed the US administration for failure in controlling the recent wildfires in California, saying "the United States is unable to extinguish wildfires in its forests, which shows that its power is declining in all fields and one can withness that America has always failed in all kinds of wars that it has waged against Iran and other Muslim nations which have supported the Islamic Revolution."