Asia-Pacific
Korea
North America
US has no early warning capability vis-à-vis North Korea: Senior US commander
The commander of US forces in South Korea claims that his country does not have sufficient intelligence and surveillance capabilities on the Korean Peninsula to see a potential North Korean attack coming in case of a failure in denuclearization talks between Washington and Pyongyang.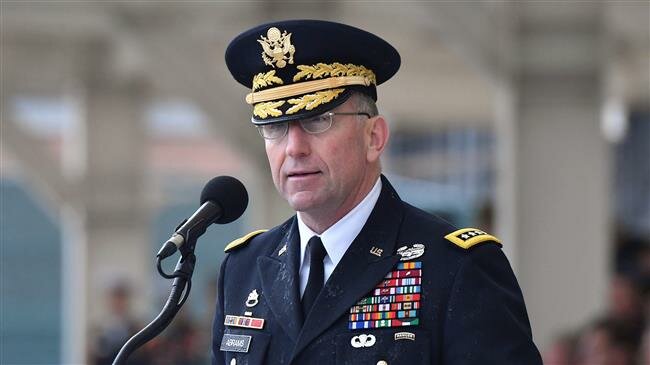 Army General Robert Abrams made the claim in a testimony before the US House Armed Services Committee on Wednesday, also claiming that North Korea's work on ballistic missiles were incompatible with the denuclearization of the Korean Peninsula.
"As we look to the future, as conditions might change, if they change negatively, then our stance, our posture is not adequate to provide us an unblinking eye to give us early warning and indicators," Abrams said. "Suffice it to say we are short to do that if things start to turn bad."
The US army general went on to say that North Korea's military activities observed by Washington were "inconsistent with denuclearization," making it necessary for the US to "maintain a postured and ready force to deter any possible aggressive actions."
"I remain clear-eyed about the fact that despite a reduction in tensions along the demilitarized zone and a cessation of strategic provocations coupled with public statements of intent to denuclearize… little to no verifiable change has occurred in North Korea's capabilities," Abrams claimed.
The comments come even as the US has substantial military presence in South Korea, Japan, and the Pacific Ocean.
US Chairman of the Joint Chiefs of Staff General Joseph Dunford last week called himself a "glass half-empty guy when it comes to North Korean capabilities" and said Pyongyang's nuclear and ballistic missile program still posed an alleged threat.
The US and North Korea have been involved in on-and-off diplomacy since January 2018. US President Donald Trump and North Korean leader Kim Jong-un met for the first time in Singapore in June 2018. There, they agreed to work toward denuclearization of the Korean Peninsula. Subsequent diplomacy between the two sides made little progress, mainly because the US refused to lift its harsh sanctions. And a second summit between Trump and Kim failed last month.
Pyongyang has so far taken several steps toward denuclearization by voluntarily suspending its missile and nuclear testing, demolishing at least one nuclear test site, and agreeing to allow international inspectors into a missile engine test facility. The US, however, has insisted that sanctions on the North must remain in place until it completely and irreversibly dismantles its nuclear program.
Some former and current US officials are opposed to Trump's engagement with North Korea altogether.