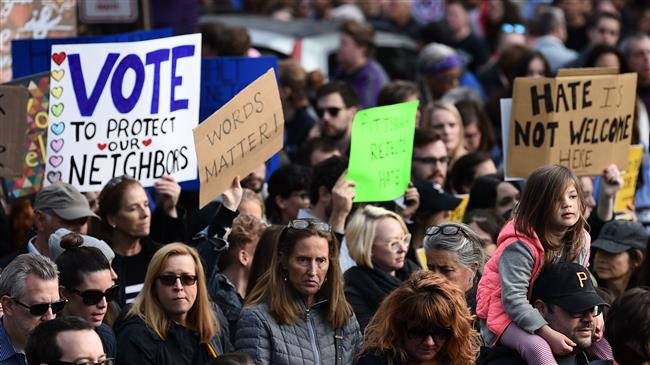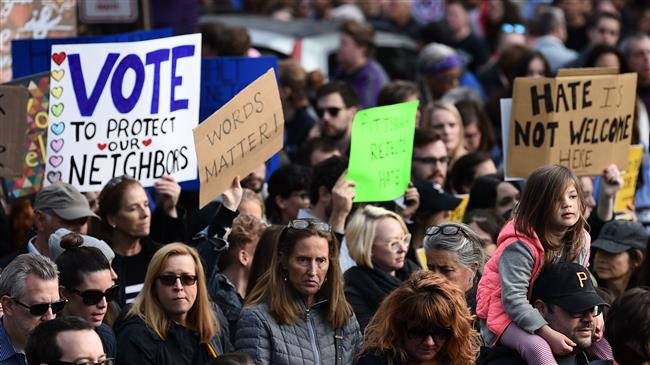 Hate crimes in major US cities rose for the fifth consecutive year in 2018, fueled in large part by attacks on African-Americans, Jews and Latino communities, according to a new report.
There were a total of 921 hate crimes in nine of the 10 largest US cities last year, an increase of 14 percent from 2017, according to data compiled by the Center for Hate and Extremism at California State University in San Bernardino.
The study used police department data from around the country.
Last year's bias incidents spiked around the time of the 2018 midterm elections, suggesting "hate-mongers" were emboldened by US President Donald Trump's divisive rhetoric, said Brian Levin, the center's director.
"In looking at this correlation, we believe that around highly charged emotional events, like a terrorist attack or an election, the bully pulpit can make a difference," Levin told NBC News.
Trump held dozens of televised rallies during the midterm campaign, where he endorsed candidates, attacked Democrats and the press, and focused heavily on immigration, including a caravan of Central American migrants making their way through Mexico.
A hate crime generally refers to a criminal act that is motivated by bias against a specific group. Hate crimes may involve physical assault, bullying, harassment, damage to property, verbal abuse or insults, offensive graffiti and hate mail.
The Anti-Defamation League, a Jewish organization that tracks anti-Semitism in the United States, recorded an increase of 57 percent in anti-Semitic incidents in 2017, the largest single-year increase on record.
Levin said the rise in anti-Semitism stems in part from a "general disdain for institutions and elites."
Critics say Trump's "xenophobic rhetoric and racist policies" have fomented a surge in right-wing extremism across the country and may have even helped provoke the bloodshed at the Tree of Life Synagogue in Pittsburgh last year.