North America
US hits record high in daily COVID-19 cases as outbreak prompts tough actions
The United States has hit yet another record single-day spike in the number of COVID-19 cases as the new coronavirus continues to rage in hot spots across the country, prompting authorities to adopt strict face-mask order in the hardest-hit states.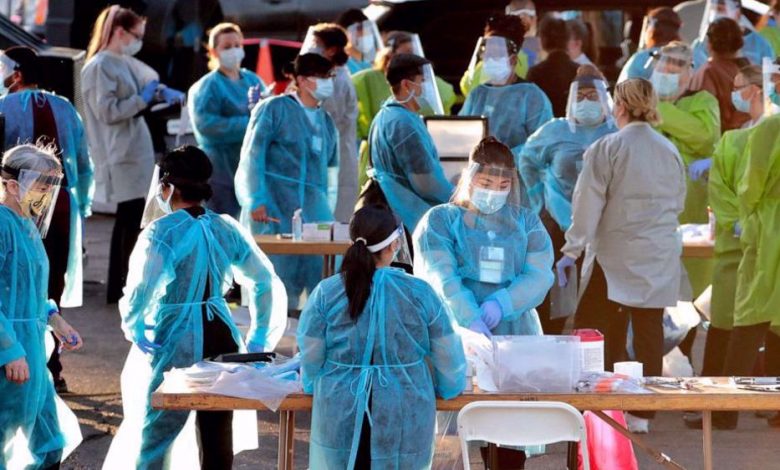 US health officials reported over 60,000 new cases of the viral infection on Wednesday.
The figure is the biggest increase ever reported by a country in a single day since the coronavirus first emerged in China late last year and quickly spread to the rest of the world.
The US deaths also rose by more than 900 for the second straight day, on Wednesday.
That has pushed the US virus cases to 3,054,695, with a death toll of 132,299 as of July 9, according to Johns Hopkins University (JHU).
The resurgence of the virus has forced many US states to reinforce restrictions and order the closure of their economy again.
The governor of New Jersey, Phil Murphy, unveiled an executive order requiring face coverings outdoors where social distancing is not possible.
"It's about life and death," said Murphy, whose state has so far recorded 174,039 confirmed cases and 15,332 related deaths.
Republican state Senator Michael Doherty, however, accused Murphy, a Democrat of "exploiting a public health crisis for power.
He described the mask directive as "oppressive."
Over the past two weeks, the cases of the viral disease have been on the rise in 42 of the 50 states, according to a Reuters analysis.
It is now again sweeping through heavily populated states, including California and Texas.
Both of the states reported their highest daily toll of deaths during the pandemic to date.
California with a number of 292,560 cases and 6,718 deaths, and Texas with 224,929 total cases of infections and 2,875 fatalities, are respectively the second and the third worst hit states, JHU data show.
In California, hospitalizations have been up 44% over the last two weeks, according to governor Gavin Newsom, who said on Wednesday that admissions to ICUs are also on the rise. He also reported 11,694 new cases on Wednesday.
Texas reported on Wednesday its deadliest day ever since the pandemic hit the country, along with 98 new deaths.
The statewide death toll is now 2,813, based on data from the Texas Department of State Health Services.
On the top of list of the worst-hit states, is New York with 398,929 confirmed cases of COVID-19 and 32,251 deaths, according to JHU data.
Arizona, Tennessee, West Virginia and Utah all had record daily increases in new cases, as well.
Republican convention raises concerns
In Texas, Houston Mayor, Sylvester Turner ordered the cancellation of a Republican Party convention scheduled for July 16-18 in Houston, citing public health concerns.
Houston, the largest city in Texas and the US oil industry's hub, registered more than 1,000 new cases on Tuesday, a single-day record, Turner tweeted on Wednesday, calling the spread "severe and uncontrolled."
President Donald Trump, who is seeking reelection in November, held a campaign rally in Tulsa despite warnings late last month that "likely contributed" to a dramatic surge in new coronavirus cases, according to Tulsa City-County Health Department Director Bruce Dart.
Tulsa County reported 206 additional cases on Tuesday and 261—a record high—on Monday.
"The past two days we've had almost 500 cases, and we know we had several large events a little over two weeks ago, which is about right," Dart said. "So I guess we just connect the dots."
Trump, however, has planned another campaign rally on Saturday in New Hampshire—an area with a relatively low cases of COVID-19 cases.
Health experts raised concern that a large, crowded rally will reverse positive trends.
New Hampshire governor Chris Sununu called on people to wear masks and practice social distancing at the rally.
Trump has forced states to return to their daily routines and threatened to cut off federal funding to schools which fail to reopen on their normal schedule.