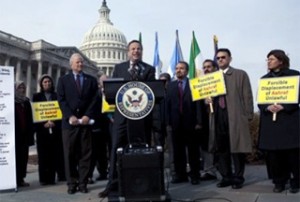 The US House of Representatives has voted to impose new economic sanctions on Iran as part of the efforts to put more pressure on Tehran over its nuclear program.
The legislation, approved 412-12 on Tuesday, would end access to US markets for foreign companies that sell refined petroleum products to Iran or help the Islamic Republic develop its petroleum capacity, AP reported.
No Senate action is expected on the legislation this year and the House vote was, for the time being, primarily a warning to Iran to halt its uranium enrichment program.
Tehran has repeatedly declared that it will not relinquish the Iranian nation's inalienable nuclear rights under Western pressure.