North America
Asia-Pacific
US Intelligence Services Failed to Foresee Kabul's Rapid Collapse: Report
US agencies experienced a widespread intelligence failure regarding the rapid takeover of Afghanistan's capital by the Taliban, as American troops remained on the ground in mid-August, according to a report Thursday.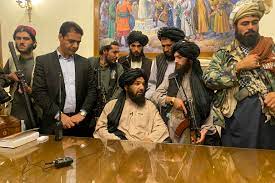 Summaries of classified material reviewed by the Wall Street Journal show the agencies tracked Taliban advances from spring 2020 until this July, predicting the militant group would keep gaining ground as the US-backed government was unlikely to survive without support from Washington.
But none of the nearly two dozen intelligence assessments foresaw the Taliban's takeover of Kabul by Aug. 15 — when US forces were still on the ground, the Journal reported.
The newspaper obtained summaries of reports by four key intelligence agencies: the Central Intelligence Agency, the Defense Intelligence Agency, the Office of the Director of National Intelligence and the State Department's intelligence bureau.
Just one month after President Biden announced the drawdown of all remaining 2,500 US troops in Afghanistan, the CIA released a May 17 report estimating the government of Ashraf Ghani would fall by the end of the year.