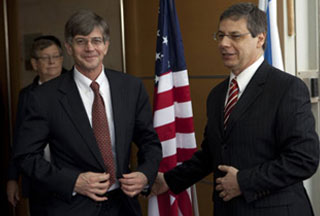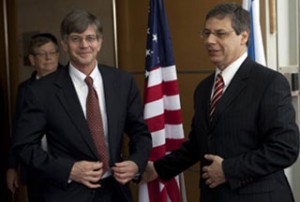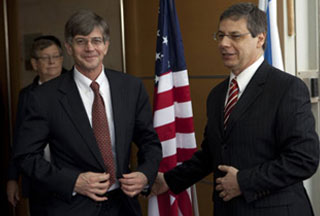 The US and Israel have opened talks on Iran's nuclear program following Russia's rejection of imposing tougher sanctions on Tehran.
The meeting was held between US Deputy Secretary of State James Steinberg and his Israeli counterpart Danny Ayalon in Jerusalem (al-Quds).
This comes a week after Israeli Prime Minister Benjamin Netanyahu's visit to Moscow failed to rally Russian support for tougher UN sanctions against Iran.
Israeli Foreign Ministry spokesman Ashley Perry claims the two officials are scheduled to engage in "strategic dialogue" over Iran's nuclear program.
However, a US official described the talks as "regularly scheduled annual dialogue."
The State Department said that the talks are part of "an ongoing process that the United States values as a meaningful tool to discuss a wide range of issues that concern both of our countries."
Tel Aviv and Washington claim Tehran's nuclear program is a cover for producing atomic weapons.
Iran, a signatory to the nuclear Non-Proliferation Treaty (NPT), says its nuclear program aims to produce electricity as well as life-saving medical isotopes used for cancer treatment.
This is while Israel reportedly has more than 200 nuclear warheads and refuses to sign the NPT.