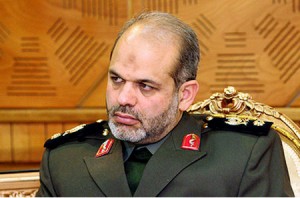 Following a recent provocation by a US aircraft, Iran's Defense Minister Ahmad Vahidi says Washington "knows better" than to take military action against Tehran.
On the last day of a major military maneuver in the Persian Gulf and the Sea of Oman, Vahidi said Washington's constant war threats against Tehran are "illegal" and attests to the "disoriented state of mind" of US officials.
"The United States has enough common sense to understand the dire consequences of threatening the Islamic Republic with military confrontation," continued the Iranian defense minister.
"With more than 5,000 nuclear warheads in its arsenal, Washington has no right to preach the merits of a global nuclear disarmament," he said.
Vahidi explained that the six-phase Velayat 89 military exercise has honed Iran's naval deterrence skills; not only in the high seas, but also in the strategic Strait of Hormuz, through which 40 percent of the world's oil and energy supplies pass through every day.
The Strait of Hormuz is of critical importance to global energy security as it is the only sea route through which oil from Kuwait, Iraq, Iran, Saudi Arabia, Bahrain, Qatar, as well as most of United Arab Emirates, can be transported.
Iran has threatened to shut down the key oil shipping passage in the event of a military attack from the United States or Israel.
Commenting on recent provocations by a US reconnaissance aircraft, Vahidi said the country's anti-aircraft system made it clear that the plane should leave the area at once.
The American plane had reportedly approached Iranian borders Monday night, in the midst of the eight-day military drills off the country's southern coast.