Iran
Middle East
North America
US losing capacity for pressure on Iran: Rouhani
Iranian President Hassan Rouhani says the United States has practically exhausted its capacity for pressure on Iran and such pressure is losing steam.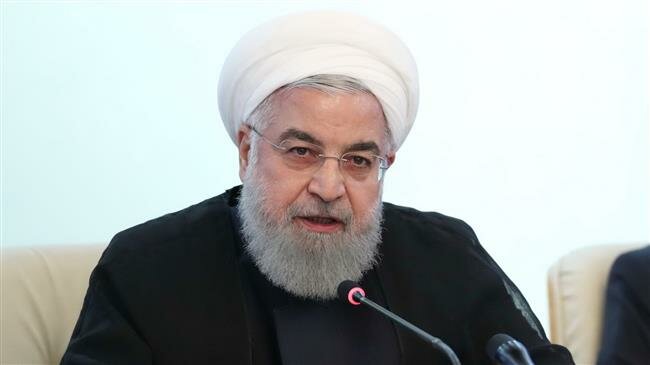 During a cabinet meeting on Wednesday, President Rouhani said America had over the past year employed everything in its capacity to strain Iran and that such pressure was "unprecedented in history."
"The Iranian nation shall know that America's pressure against our country has reached its maximum point, and the capacity [to apply pressure] is practically nearing its end," the Iranian president said. "From this point on, these sanctions and pressure will lose their capacity [to cause harm] and will dry up."
He said that despite disinformation suggesting otherwise, Iran's situation was "quite good," stressing however that hardships did exist.
President Rouhani said the US measures amounted to "economic terrorism" and American officials working to devise and enforce those measures would go down in history as "oppressors working against the Iranian people."
He then lauded Iran's strategy in the face of US pressure.
The fact that a European foreign minister explicitly says during his visit to Tehran that the US is on the wrong path, that maximum pressure on Iran will fail, and that everyone has been awestruck by Iran's prudence over the past year means that the Europeans know how their partner is making a mistake, Rouhani said.
He was apparently referring to the visit by German Foreign Minister Heiko Mass, who was in Tehran on Monday.
'Europe must resist US economic terrorism against Iran'President Rouhani tells the visiting German FM Mass that Iran expects Europe to fulfill its obligations in accordance with the 2015 nuclear deal.
The US has been attempting to pile up pressure on Iran since May 2018, when President Donald Trump unilaterally withdrew from a multilateral deal with Tehran.
Germany, France, and the United Kingdom are the European parties to that deal, and continue to remain in it, although Iran says they have failed to properly uphold their own end of the bargain.
Trump has said he is pursuing a campaign of "maximum pressure" on Iran.