North America
Human Rights
US mass deportations of Haitians 'inconsistent with international norms': UN
The United Nations has condemned the US' mass deportations of Haitian migrants who have been camped in squalid conditions under a bridge in Del Rio, Texas after fleeing countries in the Americas.
The US started sending planeloads full of Haitian nationals back to their impoverished homeland over the weekend. The deportations come under Title 42, a policy from the administration of former president Donald Trump, that stopped most arrivals at the southern border on the grounds that migrants could spread COVID-19.
On Tuesday, the UN's top refugee official Filippo Grandi urged Washington to lift the health-related restrictions, saying they "deny most people arriving at the southwest US land border any opportunity to request asylum."
"The summary, mass expulsions of individuals currently under way under the Title 42 authority, without screening for protection needs, is inconsistent with international norms and may constitute refoulement," Grandi said in a statement.
He also expressed shock at images of the "deplorable conditions" under the concrete highway overpass in Del Rio after a picture spread on social media showing US border patrol agents swinging their reins to threaten migrants and push them back toward the Rio Grande river.
"We are disturbed by the images that we have seen and by the fact that we have seen all these migrants and refugees and asylum-seekers in transport to Port-au-Prince," UN human rights spokesperson Marta Hurtado told a briefing in Geneva.
"We are seriously concerned by the fact that it appears there have not been any individual assessments of the cases … and that therefore maybe some of these people have not received the protection that they needed," she added.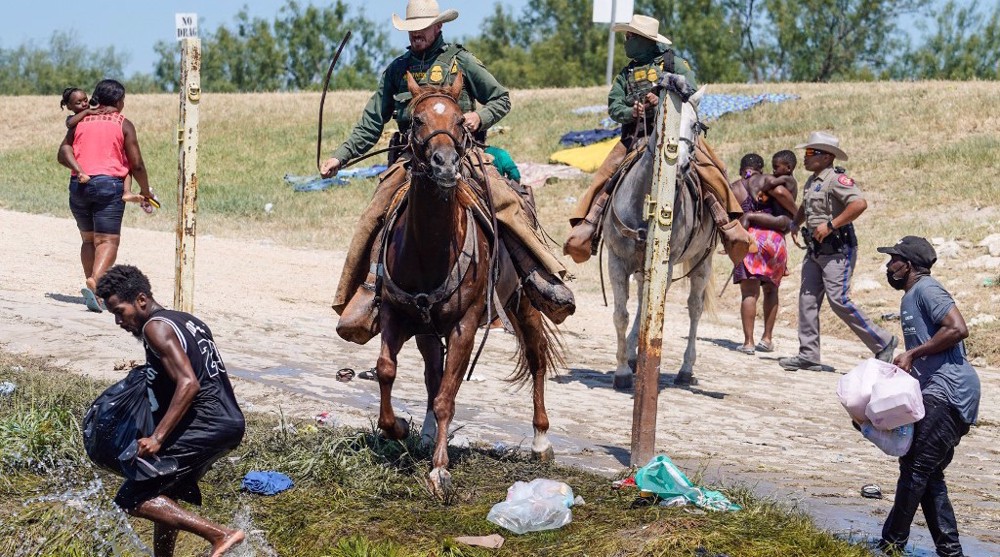 Asked at the United Nations General Assembly in New York for his reaction to the disturbing images, US President Joe Biden said, "We will get it under control."
Biden has come under pressure from his fellow Democratic and Republicans as well to end the deportations.
Biden urged to end hateful, xenophobic practice
Democratic US Senate leader Chuck Schumer urged Biden on Tuesday to end "these hateful and xenophobic Trump policies that disregard our refugee laws."
"I urge President Biden… to immediately put a stop to these expulsions, and to end this Title 42 policy at our southern border," Schumer said on the Senate floor.
Republican senator Mitt Romney also described Biden's border and immigration policies as "nothing short of a monumental disaster."
In recent days, US authorities have removed at least 4,000 people from the camp under a bridge over the Rio Grande along the southern border with Mexico.
According to the US Department of Homeland Security, some 523 Haitians have been deported to their homeland on four flights, with repatriations set to continue on a regular basis.
On Tuesday, angry scenes erupted at Port-au-Prince international airport in Haiti, after it was revealed that the Haitian government had accepted the deportations.
"I am angry at the government. We were told in prison that the Haitian government had signed to send us back to Haiti. They are all bad people, these authorities," said Yranese Melidor, who arrived on an earlier flight.
A group of men in white T-shirts rushed back toward the plane after they disembarked, with one man attempting to get back on board.
Some other returnees broke into a restricted area of the airport as they attempted to recover passports and personal belongings, as the staff closed the door of the plane before the man could scale the steps back into the cabin.
People were frustrated as they found themselves back where they started weeks ago to seek a better life in the United States.
Hundreds of people tried to cross Mexico on foot this month in caravans but were blocked by the Mexican authorities.
Around 40,000 migrants are also stranded in southern Mexico. Those who crossed the border are now stranded in the city of Tapachula. which rights activists describe as a dead end for people who are waiting to get permission to continue their journey into the US.
The city of 350,000 face overcrowding, inadequate healthcare and the risk of coronavirus infection, medical aid group Doctors Without Borders (MSF) said last week.