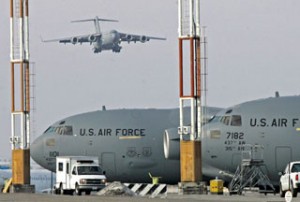 US military flights from a base north of the Kyrgyz capital have been suspended after authorities closed the airport amid anti-government riots.
The air field in Manas, which serves both US military aircraft and commercial flights, was "shut down" at about 8:00 p.m. local time in Kyrgyzstan (1400 GMT), a military official who spoke on condition of anonymity told AFP.
The US depends on the Kyrgyz base to ferry troops, fuel and weapons for NATO-led forces in Afghanistan.
Opponents of Kyrgyz President Kurmanbek Bakiyev reportedly took control of Kyrgyzstan on Wednesday after a day of spectacular violence that ended with Bakiyev fleeing the capital city of Bishkek.
The US State Department says Washington still regards the government of President Bakiyev to be in power.
"We continue to think the government remains in power," State Department spokesman P.J. Crowley said, adding the US has no additional information to confirm reports that the opposition had seized control.
About 35,000 US soldiers move in and out of Afghanistan through the US base in Manas every month and 30 percent of refueling operations over Afghanistan originate there, Times Online reported.