Economy
Middle East
North America
Syria
US must immediately remove 'inhumane, unlawful' bans against Syrians: Iran
Iran's ambassador to the United Nations has slammed the US sanctions against the Syrian nation as "political, unlawful, and inhumane", calling for the immediate removal of those bans.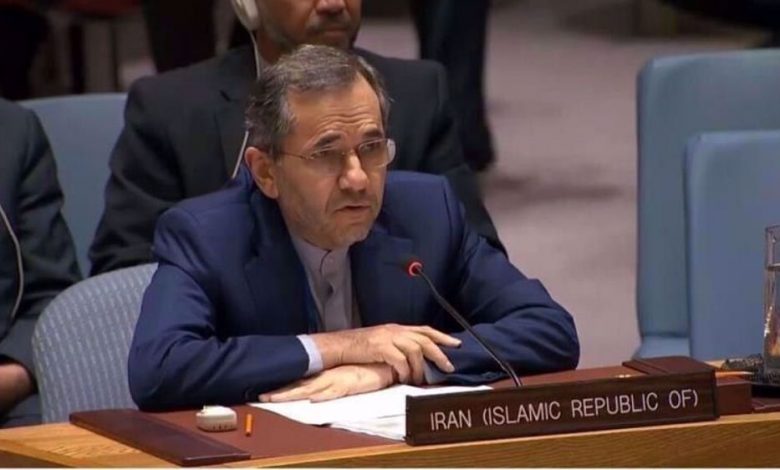 Majid Takht Ravanchi said on Wednesday the "political, unlawful and inhumane" US sanctions imposed against Syria and some other countries are imposed at a time when Syrians are suffering badly from the terrorist acts and the Coronavirus pandemic,".
"By occupying parts of Syria, the US continues to violate the territorial integrity of the Arab country. In fact, the US is pursuing its illegitimate geopolitical interests including by shielding and supporting certain terrorist groups. All such acts are in material breach of international law and must come to an end immediately," he said, speaking at a meeting of the UN Security Council on political developments in Syria and the humanitarian contributions there.
The Iranian diplomat said "the imposition of unilateral sanctions on the Syrian people is another unlawful act by the United States and some other countries."
"While the Syrians are seriously suffering from terrorist acts and also the COVID-19 pandemic, such inhumane sanctions are simply adding insult to injury, targeting the most vulnerable people the most," Takht Ravanchi added.
In late December 2020, the outgoing administration of US President Donald Trump imposed a new round of sanctions to ramp up pressure on the government of Syrian President Bashar al-Assad before Joe Biden takes office.
Syria's Central Bank, high-ranking figures and economic entities supportive of Damascus were targeted in the fresh US Treasury's sanctions.
"In total, OFAC added two individuals, nine business entities, and the Central Bank of Syria to the SDN List, pursuant to Syria sanctions authorities," US Department of the Treasury's Office of Foreign Assets Control (OFAC) said in a statement.
Elsewhere in his Wednesday remarks, the Iranian diplomat strongly condemned Israel's continued aggression against Syria, urging that the Tel Aviv regime must immediately stop its "provocative military adventurism".
He also reiterated Tehran's support for the Syrian people and government until they overcome the black boxes
Takht Ravanchi said that Iran will continue to support the people and Government of Syria to overcome the threats of terrorism and foreign occupation, rebuild their country and ensure its unity and territorial integrity.
Syria, gripped by a militant war since 2011 that has left hundreds of thousands killed, has managed to take back control of many territories from Daesh and other terrorist groups. The devastating war has also displaced millions of people inside the Arab country and into other places.