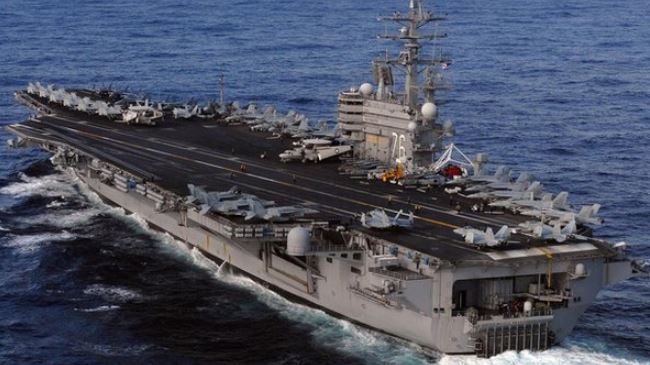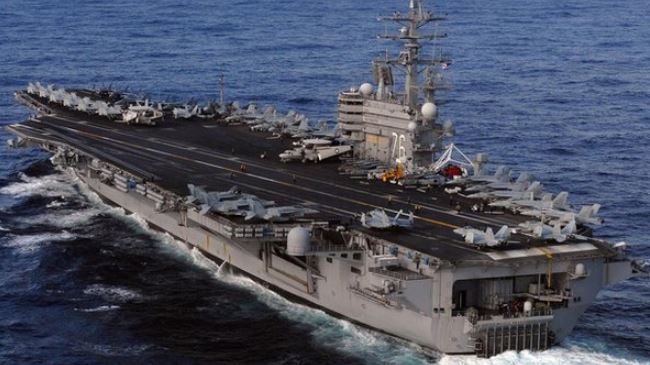 A top Iranian navy officer has hailed the powerful military presence of the Islamic Revolution Guards Corps (IRGC) Navy in the Persian Gulf, saying the US should withdraw its forces from the strategic waters.
IRGC Navy chief Rear Admiral Ali Fadavi highlighted the capabilities of the IRGC naval forces in maritime battles, adding that the Islamic Republic pursues the withdrawal of US forces from the Persian Gulf, Fars news agency quoted him as saying on Sunday.
He pointed to the military exercises held by Iranian Armed Forces to prepare for countering enemy threats, stressing, "The destruction of US naval forces is among the objectives [pursued by] the IRGC Navy."
"We are simulating this (mission) on a replica aircraft carrier because destroying and drowning American warships have been and will remain on our program," added the high-ranking Iranian admiral.
The Fifth Fleet of the US Navy – with about 5,000 personnel – is based in Bahrain's territorial waters in the Persian Gulf, near Iran.
Fadavi further stated that the Islamic Republic's naval forces have acquired ultra-speed missiles capable of striking underwater targets.
"We unveiled Hout [supercavitation] torpedo, which is a missile exclusively-manufactured by Russians, during Great Prophet Maneuver I [in 2006]. This missile can travel underwater at the speed of 100 meters per second," he said.
In recent years, Iran has made major breakthroughs in its defense sector and attained self-sufficiency in producing important military equipment and systems.
The Islamic Republic has been conducting military drills to enhance the defense capabilities of its armed forces and to test modern military tactics and equipment.
Iran says its military might poses no threat to other countries, stating that its defense doctrine is based on deterrence.