North America
US Navy to test Lockheed Martin's FORTIS exoskeleton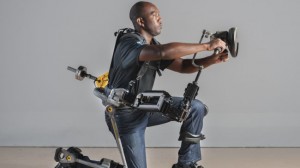 Exoskeltons from Lockheed Martin that boost a person's strength and endurance are to be tested and evaluated for industrial use by the US Navy.
The contract was issued for the Navy through the National Center for Manufacturing Sciences, or NCMS, but its details were not disclosed.
Lockheed said its FORTIS exoskeleton is an ergonomically designed, wearable and unpowered device that transfers the weight of heavy loads from a user's body directly to the ground. It's lightweight and flexible.
The Navy aims to mature and transition exoskeleton technology to the Department of Defense industrial base and use the system for hand-tool applications at Navy shipyards.
"Ship maintenance often requires use of heavy tools, such as grinders, riveters or sandblasters," said Adam Miller, director of new initiatives at Lockheed Martin Missiles and Fire Control.
"Those tools take a toll on operators due to the tools' weight and the tight areas where they are sometimes used. By wearing the FORTIS exoskeleton, operators can hold the weight of those heavy tools for extended periods of time with reduced fatigue."
Exoskeleton technology has been researched by Lockheed Martin for more than five years, the company said, and most recently through the NCMS Commercial Technologies for Maintenance Activities program. UPI