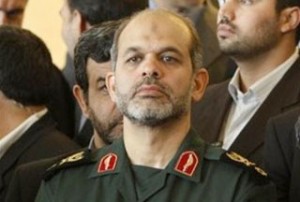 Iran's defense minister says a review of US nuclear policy which allows the use of nuclear weapons against Iran has revealed a weakness in Washington.
The new US Nuclear Posture Review (NPR) purportedly restricts the use of its nuclear arms against most states, except Iran and North Korea.
Unlike North Korea, Iran is a signatory to the Nuclear Non-Proliferation Treaty (NPT). It has also stressed that its nuclear program is only for the civilian applications of the technology.
"The enemies say we adopt the policy of deterrence regarding Iran's nuclear issue … this is a sign of weakness," Brigadier General Ahmad Vahidi said in a Tuesday speech marking the national Army Week.
The new US nuclear policy has been slammed by Iranian lawmakers and senior officials, who stress that the threat is in clear violation of United Nations and international laws.
Tehran says it plans to submit a formal complaint to the UN.
Gen. Vahidi said the policy of deterrence belongs to the past and shows "the enemy has been faced with a dead end."