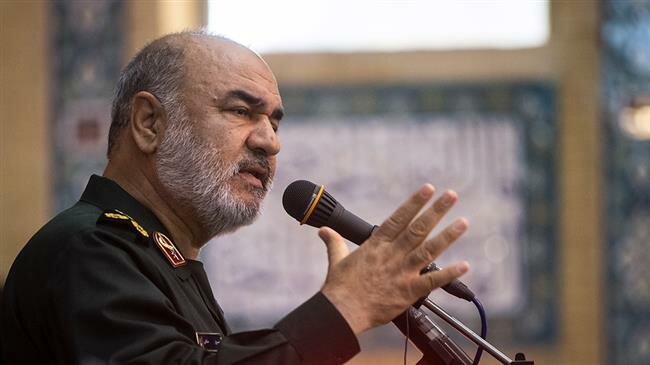 The chief commander of the Islamic Revolution Guards Corps (IRGC) says the United States is on the decline because of its unwise leaders.
Major General Hossein Salami said on Tuesday that "the Americans are on the path of decline despite having all that power and holding the upper hand in [the fields of] economy, politics, culture and military forces."
This is because "their leadership lacks wisdom," he said.
He added that the US wrongly blames Iran for the recent drone raids on major Saudi oil facilities despite knowing that the attacks were carried out by Yemen's Ansarullah movement.
The Americans cannot accept the fact Ansarullah forces have managed to promote their defense capabilities under sanctions and siege and launch such drone raids. "Of course, they (the Americans) can do nothing" about it.
On September 14, Yemen's Ansarullah movement and their allies in the Yemeni army deployed as many as 10 drones to bomb Abqaiq and Khurais oil facilities run by the Saudi state-owned oil company Aramco.
The unprecedented attack knocked out more than half of Saudi crude output, or five percent of global supply, prompting Saudi and US officials to claim without any evidence that it probably originated from Iraq or Iran.
The United States and Saudi Arabia have, to various degrees, blamed Tehran for the attack on Aramco installations.
Tehran, however, has rejected the allegations, saying Washington seems to be shifting from a failed campaign of "maximum pressure" to one of "maximum lying" and "deceit" against the Islamic Republic.