Economy
Iran
Middle East
North America
US plans to seize tanker it thinks came from Iran: Report
Around 2 million barrels of oil on board a Liberian-flagged tanker sailing to the US is bound to be seized, because authorities think it is Iranian oil, Bloomberg reports.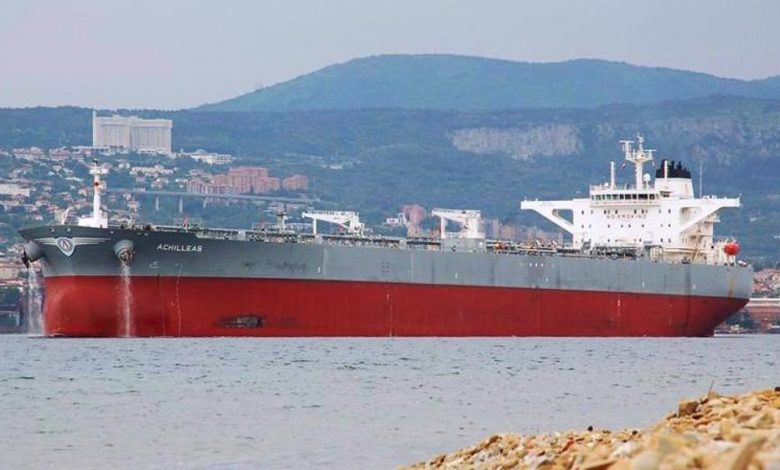 A seizure order issued by the US Department of Justice came before Joe Biden succeeded Donald Trump as US president on Jan. 20, the financial news provider cited unidentified "people familiar with the matter" as saying.
It came after the Achilleas' Greek owner, Capital Ship Management Corp., alerted US authorities to the possibility it had "unknowingly" taken on Iranian crude.
The Very Large Crude Carrier (VLCC) reportedly received its oil at the United Arab Emirates port of Fujairah in November.
The US has tried to seize Iranian petroleum before, but all shipments have made it to their destinations after Tehran's stern warnings of retaliation.
Last year, Washington claimed to have intercepted vessels it said were carrying gasoline from the Islamic Republic to Venezuela, but Iranian officials roundly rejected the allegation.
Minister of Petroleum Bijan Zanganeh said at the time that the United States was seeking to contrive a victory for itself, and that neither did the ships nor the cargo belong to Iran.
According to the minister, the shipments seized by the US included Iranian gasoline that had been sold FOB (free on board) to Venezuela, meaning Iran had received the payment for the cargo.
"So the United States has not confiscated the property of the Islamic Republic of Iran, but the property of Venezuela," he said then.
Iranian officials have said the country is in an economic war with the United States which has forced international payment networks to cut off the Islamic Republic, making trade all but impossible.
Over the years, the Islamic Republic has come up with innovative techniques in wiggling its way around the draconian American sanctions.
Several firms that reportedly monitor Iranian output have said shipments are steadily rising.
Indonesia's seizure of Iranian tanker
But in a peculiar turn of events, Indonesian authorities said Sunday they had seized an Iranian-flagged vessel for suspected illegal transfers.
The MT Horse, owned by the National Iranian Tanker Company, was seized along with MT Freya, managed by Shanghai Future Ship Management Co, in Indonesian waters near Kalimantan island.
An Indonesian official has said the ships were seized after an oil spill was detected around the MT Freya while receiving oil from MT Horse.
Iran said Monday MT Horse was seized over a "technical issue" and had asked Indonesia to explain the seizure.
The vessels were reported Tuesday to being led by the Indonesian coast guard to Batam island in Indonesia's Riau Islands Province for further investigation.
An Indonesian coast guard told Reuters that some of the crew remained in the supertankers, but others were being detained on coast guard ships for questioning.
The suspicious seizure comes in the wake of Iran's detention of a South Korean oil tanker in the Strait of Hormuz for pollution. It is not clear yet whether the two incidents are linked.
Seoul has tried to tie the detention to the issue of its debt worth several billion dollars which it is refusing to pay to Iran because of US sanctions. There is no indication yet whether the US or other parties have asked Indonesia to seize the ships.
Raising oil output to 8 million bpd
On Friday, Zanganeh said Iran's oil exports have climbed "significantly" in recent months and its sales of petroleum products to foreign buyers reached record highs.
"We set the highest record of exports of refined products in the history of the oil industry during the embargo period," he said.
Still, Iran's petroleum industry is watching for a change in the status quo to ramp up production and return to the market.
The new US administration has indicated its willingness to return to the nuclear deal which Trump abandoned in 2018, but Iran says Biden has to move swiftly first to lift the sanctions which his predecessor imposed on the Islamic Republic.
"If the sanctions are lifted, we will return to the market stronger than before, and faster than expected," Zanganeh said Friday.
The minister said Tuesday Iran plans to raise oil production to 6.5 million barrels and ultimately eight million barrels a day.
"The global energy production is moving toward limiting oil production. I see the day when oil production will be banned. Hence, we have to increase our oil production and turn non-renewable underground wealth into renewable overground wealth," he said.
Zanganeh said, "Most of our life in this government passed under sanctions, but we did not let oil development stop, though at a heavy price."
Iran's warning amid Biden's dithering
Officials in Biden's administration have said Washington would not take a quick decision on lifting the sanctions.
Biden's nominee for secretary of state Antony Blinken said last week that Washington did not face a quick decision on whether to rejoin the nuclear deal.
White House Press Secretary Jen Psaki said the United States seeks to lengthen and strengthen the nuclear constraints on Iran through diplomacy and the issue will be part of Biden's early talks with foreign counterparts and allies.
On Tuesday, Iran warned the Biden administration that it will not have an indefinite time period on its disposal to lift sanctions on Tehran and rejoin the 2015 nuclear deal with the Islamic Republic.
"We are waiting for the official announcement of their stance as well as the lifting of sanctions," Government spokesman Ali Rabiei said.
Nevertheless, Bloomberg characterized the new seizure order as Washington's latest attempt to block the Islamic Republic's energy exports.
Anti-Iran hawks
Meanwhile, US reports say opposition is rising against the potential nomination of an outspoken proponent of diplomacy as the administration's envoy for Iran.
They say a well-funded and coordinated "network" of anti-Iran hawks that has been smearing advocates of diplomacy with Tehran has "drawn the line" on Robert Malley.
Malley was the Obama administration's chief nuclear negotiator. He has come under attacks in what observers say are part of a broader effort against diplomacy with Iran and reversing Trump's aggressive approach towards Iran.
Hawkish Republican Senator Tom Cotton claimed last week that Malley had a long track record of sympathy for Iran and animus towards Israel.