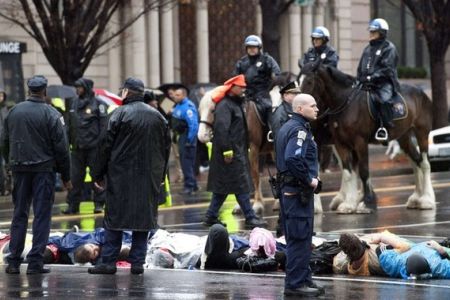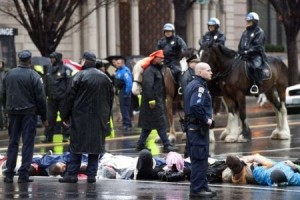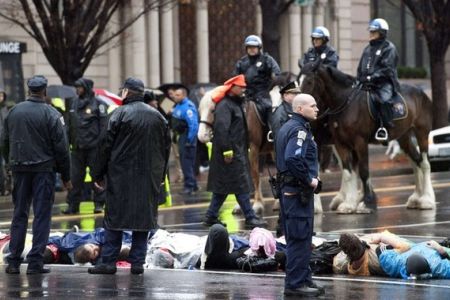 The US police has intensified its crackdown on anti-corporatism protesters, arresting around 150 activists in San Francisco and Washington D.C., Press TV reports.
Hundreds of Occupy protesters gathered on the K Street in Washington on Thursday, which is known as the home for corporations involved in lobbying in US politics.
Over 60 people were arrested by the police after dozens of protesters lied down in the middle of the street shutting down a major downtown intersection to traffic as well as several blocks in either direction.
Protesters called for an end to the excessive influence of money in US politics.
"We came here to protest the fact that corporate greed, corruption and deceit are taking our country from us," a protester said during the Thursday protests in Washington D.C.
Joining hands with fellow protesters, union workers, progressive activists, and community organizers, a political action group, known as 'Our DC,' has been hosting thousands of demonstrators from all over the country in Washington D.C.
The arrests in Washington came hours after the police in San Francisco dismantled over 100 tents at an Occupy campsite.
At least 75 people were also arrested at the San Francisco camp of several hundred protesters, which was the last large Occupy encampment standing after the police raided tent cities in Los Angeles and Philadelphia last week.
In Boston, meanwhile, Occupy protesters say they will remain defiant despite a court ruling, which rejected their request for a legal order to ban eviction of protesters from their encampment.
US police have moved to break up Occupy encampments in numerous major cities over the past weeks, brutally attacking and arresting dozens of occupiers.
The Occupy Wall Street movement began when a group of demonstrators gathered in New York's financial district on September 17 to protest against the unjust distribution of wealth in the country and the excessive influence of big corporations on US policies.
Despite the police crackdown and the mass arrests, the Occupy movement, which grew out of the Occupy Wall Street movement, has now spread to many major US cities as well as to other countries like Australia, Britain, Germany, Italy, Spain, Ireland, and Portugal.