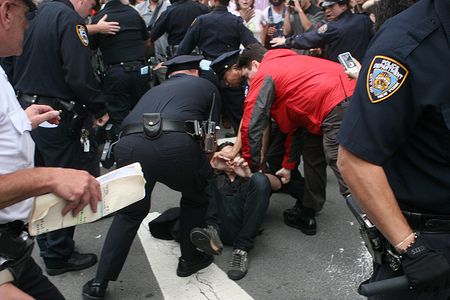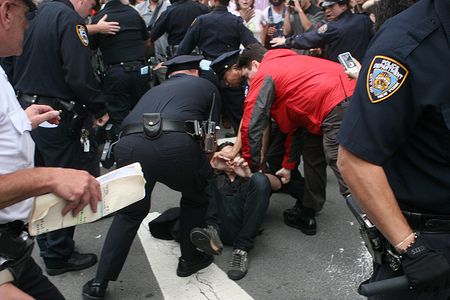 Californian police arrested 30 anti-Wall Street protesters as nationwide protests gain momentum and thousands of people join rallies throughout the country.
Police detained at least 19 people the city of Sacramento on Friday. Los Angeles police also detained 11 protesters for trespassing and sitting down in the lobby of a branch of Bank of America refusing to leave on Thursday.
The Occupy Wall Street protests have gained momentum across US spreading as far as Salt Lake City in Utah to Anchorage in Alaska.
In Las Vegas, teachers, union workers, college students, and the unemployed marched on Thursday and chanted "Banks got bailed out, we got sold out."
Protests also continued in several other cities including Houston, San Antonio, Philadelphia, and Sacramento.
"The great thing about Occupy Wall Street is that they have brought the focus of the entire country on the middle class majority," said George Aldro, 62, a member of the United Auto Workers, as he carried the union's flag over his shoulder.
Concerns over Wall Street practices and economic inequality reverberated up to the White House on Thursday, with President Barack Obama saying the protesters are expressing the frustrations of the American public.
President Obama told a news conference he understood the public's concerns about how the nation's financial system works. He said the American citizens see Wall Street as an example of the financial industry not always following the rules.
"It expresses the frustrations that the American people feel that we had the biggest financial crisis since the Great Depression, huge collateral damage all throughout the country, all across Main Street," Obama said.
Many of the protesters blame the US President Barack Obama for failing to deal with the banks after the 2008 mortgage meltdown and financial crisis.
Others blame both Democrats and Republicans for policies that protect corporate America at the expense of the country's middle and working classes.
The Occupy Wall Street protests started against social justice in New York on September 17.