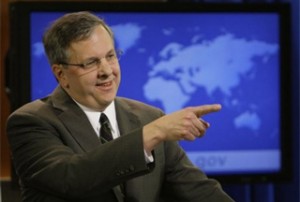 The US says it is not ready to abandon negotiations with Iran just yet, after Tehran's announcement that it will not send its low-grade uranium abroad.
"We're not going to close any… door on the engagement track, but at a certain point I think we're going to start paying a little more attention to the other track," State Department spokesman Ian Kelly said on Wednesday.
"We're not quite at that point right now, but as I said before, I think that time is short."
His remarks came hours after Iranian Foreign Minister Manouchehr Mottaki said Tehran would not transfer its low-grade uranium abroad as suggested by the Western powers but would be ready to consider exchanging it with higher enriched fuel in a simultaneous swap inside the country.
Washington does not consider the announcement made by Mottaki an official response; therefore, it is waiting to see what answer the UN nuclear watchdog will receive from Iran, Kelly said.
However, he did interpret Mottaki's remarks negatively, saying that they make Washington doubt the possibility of Iran giving a "positive response" to the deal.
Kelley added that the US would continue to discuss the dual track of "both engagement and pressure" against Iran with Russia, China, Britain, France, Germany and the International Atomic Energy Agency (IAEA).
While the US did not interpret Mottaki's announcement as a "no" answer to the IAEA-proposed deal, French Foreign Minister Bernard Kouchner attacked Iran for refusing to send low-enriched uranium abroad, describing Tehran's decision as a "negative" move.
"There is a clear and negative response from the Iranians," he said, adding that the result was not encouraging.
"We have met on every possible occasion our Iranian negotiating partners. This parallel track has not really borne fruit but we push on, we continue to talk with the Iranians," Kouchner said.
The deal, which the IAEA drew up after talks with Iran, the US, France and Russia in Vienna last month, proposes an exchange of Iran's low-grade uranium (enriched up to 3.5 percent) with fuel processed to higher levels of around 20 percent.
Iran needs the higher enriched fuel to run the Tehran nuclear reactor which produces radioisotopes, used in medicine for cancer treatment and other clinical purposes.
Despite the reactions from the West, analysts believe Mottaki's comments can not be interpreted as a negative response as they do not undermine the exchange itself, but simply suggest a different means of transfer that could allay Tehran's concerns.
According to some analysts, Tehran is worried that the other side may not stick to its side of the bargain after Iran transfers its low-enriched uranium abroad for further processing.