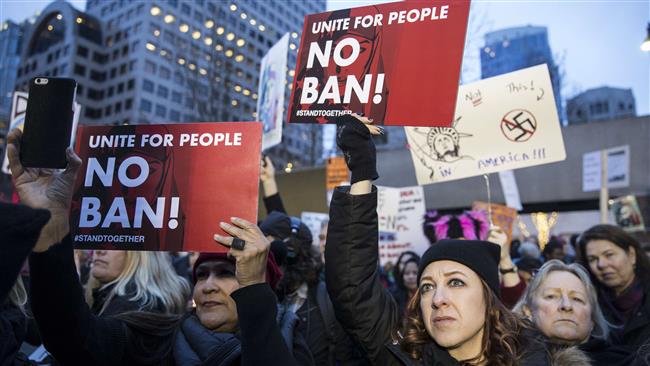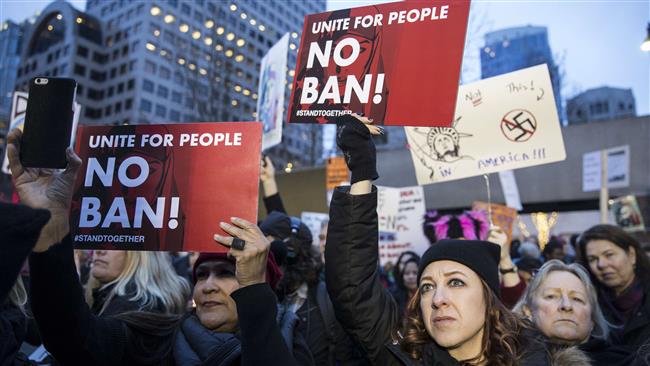 Tens of thousands of protesters have rallied in US cities and at major airports as President Donald Trump's executive order banning people from predominantly Muslim countries continued to sow chaos and outrage across the country.
Travelers were stranded in the United States and around the world and anxious families were searching for relatives at international airports for the second day as authorities struggled to enforce Trump's sweeping immigration order.
A second wave of protests erupted in New York, Washington, Los Angeles, Houston, Dallas, Boston and elsewhere on Sunday afternoon after rallies were held at US airports the day before where people were detained upon arrival even if they held valid visas or refugee permits.
Outside the White House on Sunday, several thousand demonstrators denounced the new president, carrying signs such as "Deport Trump" and "Fear is a terrible thing for a nation's soul."
Trump's order suspends travel to the United States from Iran, Iraq, Syria, Yemen, Sudan, Libya and Somalia, blocks refugees from Syria indefinitely, and suspends all refugee admissions for 120 days.
The Republican president defended the ban in a statement on Sunday, saying the US would resume issuing visas to all countries subject to his directive once secure policies were put in place.
"To be clear, this is not a Muslim ban, as the media is falsely reporting," Trump said. "This is not about religion – this is about terror and keeping our country safe."
As anger and confusion continued to swell at airports, the White House pulled back on part of Trump's executive order by saying that it would no longer apply to those with green cards granting them permanent residence in the US.
The Department of Homeland Security also issued an order declaring that legal residents would not be blocked from returning to the country from overseas.
The immigration order, viewed by many as a desire for decisive action at the expense of deliberate process, sent the new administration into its first constitutional battle as several courts moved to block aspects of the far-reaching ban.
Trump's order has been met with widespread criticism from Democrats and a growing number of Republicans as well as foreign leaders.
"This executive order sends a signal, intended or not, that America does not want Muslims coming into our country," Republican Senators John McCain and Lindsey Graham said in a statement. "That is why we fear this executive order may do more to help terrorist recruitment than improve our security."
Senator Bob Corker, Republican chairman of the Foreign Relations Committee, said the executive order was "poorly implemented" and urged Trump to "make appropriate revisions."
The European Union's foreign policy chief, Federica Mogherini, also criticized President Trump, saying the continent will "celebrate" every wall which is torn down and "every new bridge that is built up."