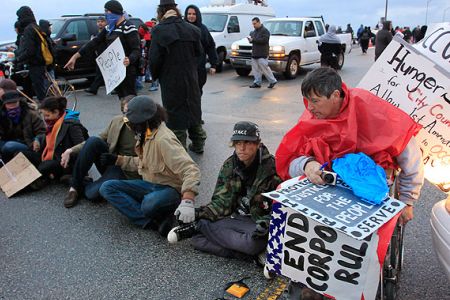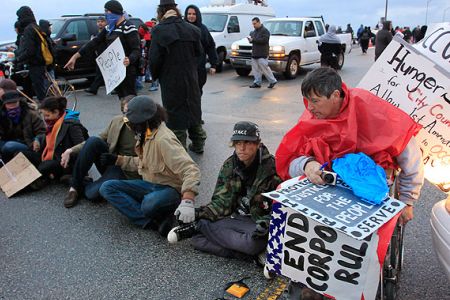 Occupy protesters along the US West Coast have joined an effort to shut down some of the country's busiest ports, despite heavy police presence.
About 200 Occupy protesters gathered at the Port of Long Beach in California on early Monday morning and at least one person was arrested, the Los Angeles Times reported.
Protesters then marched towards SSA Marine offices, a shipping company that is partially owned by the Goldman Sachs Group; however, they were met by a line of police, who threatened to arrest if they did not move back.
About 1,000 protesters in the Port of Oakland also marched through the streets to the city's cargo port, where they were met by police in riot gear. Protesters then formed a picket line in front of the police to block the entrance.
A similar incident took place at a marine terminal in Portland, Oregon, where police on motorcycles confronted some 200 demonstrators trying to disrupt traffic, Reuters reported.
The "Wall Street on the waterfront" action is being carried out as a show of support for labor struggles currently underway in Los Angeles and Longview, Washington.
The Occupy protesters are targeting the West Coast ports in an attempt to disrupt the business of the country's multinational corporations, which serves the rich elite of 1 percent in the US.
Meanwhile, tens of Occupy protesters have been arrested in the US cities of New York and San Francisco on Monday, as the nationwide crackdown on the anti-corporatism protesters continues.
Over the past few weeks, the police broke up Occupy encampments in cities and towns across the US, harshly attacking and arresting dozens of protesters.
The Occupy Wall Street movement began when a group of demonstrators gathered in New York's financial district on September 17 to protest against the unjust distribution of wealth in the country and the excessive influence of big corporations on US policies.
Despite the police crackdown and mass arrests, the Occupy movement, which grew out of the Occupy Wall Street movement, has now spread to many major US cities as well as to Australia, Britain, Germany, Italy, Spain, Ireland, Portugal, and other countries.