North America
US protests continue as zionist Trump, Democrats spar over police reform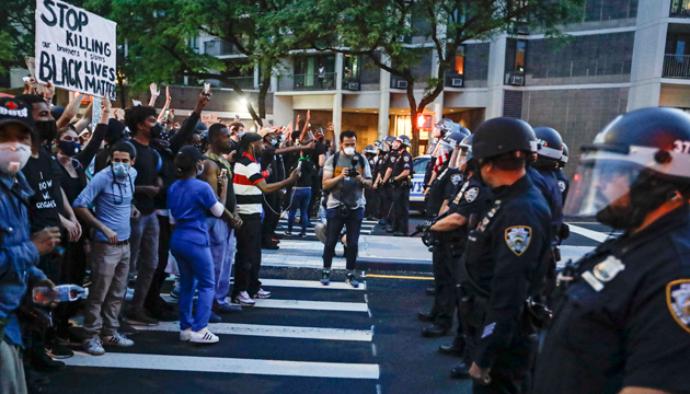 Protests continue in the United States over the death of George Floyd, African American man, whose death in police custody sparked the biggest ever anti-racism protests, along with widespread calls for police reform in the country.
People took to the streets in New York City on Wednesday afternoon for the 16th consecutive day of protests over Floyd's death.
The 46-year-old unarmed black man died late last month after a white police officer kept him handcuffed, knelt on his neck and pinned him to the ground for nine minutes in Minneapolis, Minnesota on May 25.
Protesters, who occupied a Midtown Manhattan avenue, alternated between silently kneeling and chanting anti-racism slogans.
Elsewhere in the US, angry protesters beheaded a 40-year old statue of Italian explorer Christopher Columbus in Minnesota, Boston, as calls increase for the removal of sculptures associated with racism in the country.
Boston Mayor Martin Walsh denounced the move, saying that the damaged sculpture would be removed and stored.
Another monument of the Colombus was also damaged in Richmond, Virginia, by angry protesters, who dragged it down into a lake in a city park, overnight Wednesday.
"We stand in solidarity with black and brown communities that are tired of being murdered by an out-of-control, militarized and violent police force," said the Richmond Indigenous Society on Wednesday.
Protesters carried signs that said, "Columbus represents genocide."
Protesters in Portsmouth, Virginia, defaced a Confederate monument and toppled parts of the statue of Confederate President Jefferson Davis.
For many in the US, symbols of the Confederacy – the slaveholding southern states that seceded, prompting the 1861-65 American Civil War – evoke a racist past.
US President Donald Trump says he will "not even consider" renaming military bases named for Confederate generals after calls were made for removing Confederate names from the bases.
Democrats, Trump contest police reform
As the wave of protests continues US-wide, calls for police reform grow in Congress, with Democrats unveiling a bill, which would make it easier to prosecute officers for abuse and allow victims to sue law enforcement for damages in civil court, ending a legal doctrine known as "qualified immunity".
The legislation would ban police chokeholds and no-knock warrants, restrict the use of legal force and require police body cameras.
The White House said on Wednesday that President Donald Trump was working on the legislation and the proposals could be made public in the "coming days."
"The president has spent the last 10 days quietly and diligently working on proposals to address the issues that the protesters raised across the country, legitimate issues," said press secretary Kayleigh McEnany.
She, however, ruled out Trump's support for efforts to reduce police immunity, which she said "would result in police pulling back."
An investigation showed last month how "qualified immunity" has made it easier for police officers to kill or injure civilians with impunity, Reuters reported.
"Qualified immunity", developed through a handful of Supreme Court rulings, protects police officers from being held personally liable if their actions do not violate a "clearly established" law.
Trump has already defended laws that protect police, who violate civil rights.
He has also drawn criticism for calling on state governors to crack down on protesters and threatening to send in the US military to put down the anti-racism protests.
Meanwhile, one of the four officers charged in connection with Floyd's death, has been released on $750,000 bail, on Wednesday.
Thomas Lane, 37, was charged with aiding and abetting second-degree murder and aiding and abetting second-degree manslaughter for his role in the arrest of Floyd.
Derek Chauvin, the police officer who was videotaped pressing his knee to Floyd's neck as he gasped "I can't breathe" and called for his mother before he died, was charged with second-degree murder and second-degree manslaughter.
Also Wednesday, Floyd's brother addressed the US Congress, calling on lawmakers not let his brother's death be in vain.
Philonise Floyd said that his brother "didn't deserve to die over $20."
"They lynched my brother. That was a modern-day lynching in broad daylight," he said. "It is on you to make sure his death is not in vain."
The US protesters have been calling for a ban on chokeholds and other methods of restraint used by police.
US police have been criticized in recent days for their heavy-handed tactics against protesters as indiscriminate use of tear gas, flash grenades, and many incidents of police hitting protesters with batons have been recorded and gone viral.