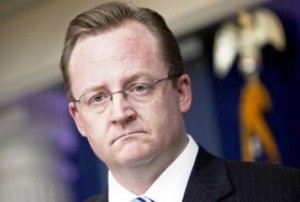 After the Iranian president rejected a deadline set by the United States for diplomatic measures on the country's nuclear case, the White House moved to warn that the deadline is "very real."
Speaking in the central Iranian city of Shiraz on Tuesday, President Mahmoud Ahmadinejad said the West can "impose as many deadlines as they want on us, we don't care."
Reacting to the comment, White House spokesman Robert Gibbs said the end of this Christian year is "a very real deadline" for Iran to respond to Western demands over its nuclear program.
"Mr. Ahmadinejad may not recognize, for whatever reason, the deadline that looms, but that is a very real deadline for the international community," Gibbs said.
The Tehran government faces pressure to halt its nuclear enrichment as world powers claim the program is aimed at building a nuclear bomb.
The Islamic Republic is already under three rounds of United Nations Security Council sanctions resolutions, demanding a halt to the country's enrichment work.
Raising the specter of a fourth round of UN sanctions, Gibbs said, "We've begun to take those steps, if Iran is unwilling to pursue its responsibilities" on the nuclear issue.
Tehran says nuclear weapons have no place in its defensive doctrine and has called for the removal of all weapons of mass destruction from across the globe.
The US warning came hours after China rejected the push for sanctions on Iran, saying diplomatic efforts on Iran's nuclear issue should be given more chance to succeed.
"We ask for more time to be given and efforts to be made to see if we can reach some sort of breakthrough," Chinese envoy to the Security Council La Yifan said Tuesday.