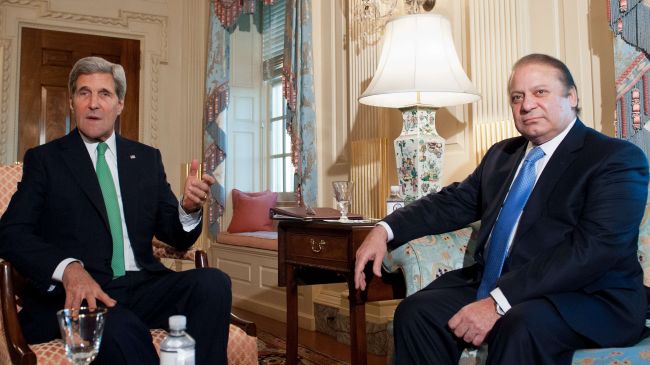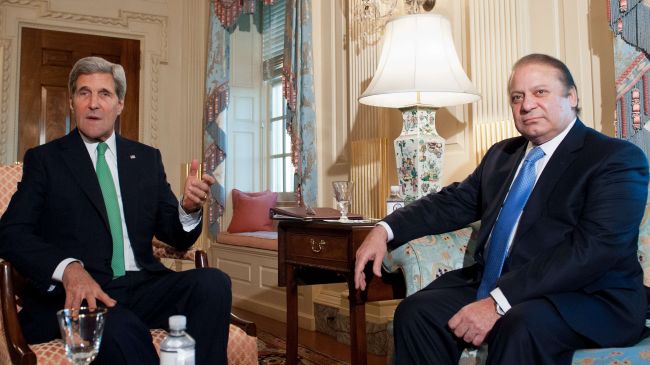 US Secretary of State John Kerry has met with Pakistani Prime Minister Nawaz Sharif in Washington.
The Pakistani leader, a vocal critic of US assassination drone attacks, is in the US for a four-day official visit and is to meet with American authorities including President Barack Obama as well as a number of Congress members.
Premier Nawaz Sharif is expected to discuss several issues which have caused frictions between Pakistan and the US in past years.
After the meeting at the State department, the American top diplomat told reporters that the relationship between Washington and Islamabad "could not be more important".
"On its own, (Pakistan is) a democracy that is working hard to gets its economy moving and deal with insurgency, and also important to the regional stability."
Kerry, however, refused to answer questions from reporters. The Pakistani premier also did not speak during the brief session with reporters.
The meeting came after the White House said it would release more than $1.6 billion in military and economic aid to Pakistan.
The aid was suspended when bilateral ties turned sour over issues such as Pakistan's opposition to US drone strikes and a number of US military operations including a 2011 night raid which allegedly killed al-Qaeda leader Osama bin Laden.
This is Pakistani premier's first visit to the US after being elected to the post in May for a third time.