Middle East
North America
Saudi Arabia
US seeks to solace Saudis after Patriot pullout announcement
The Trump administration has sought to solace Riyadh after announcing the withdrawal of a number of its Patriot surface-to-air missile batteries and troops from Saudi Arabia.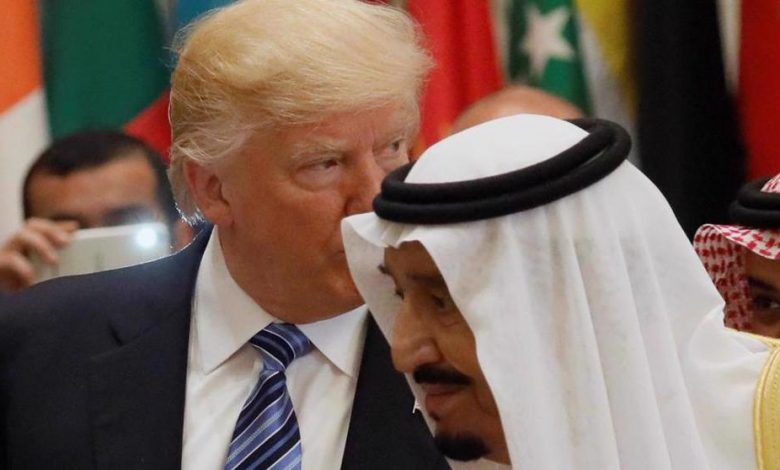 The White announced that US President Donald Trump and Saudi Arabia's King Salman spoke by phone on Friday, reaffirming "the strong United States-Saudi defense partnership".
White House spokesman Judd Deere said that the two also discussed "other critical regional and bilateral issues" and "agreed on the importance of stability in global energy markets".
The statement did not mention the Patriot missiles and the White House declined further comment, according to Reuters.
The telephone call between Trump and Salman came after US media announced the Patriot withdrawal – alongside the pullback of two US fighter jet squadrons – on Thursday.
The abrupt announcement led to much speculation regarding the status of US-Saudi ties.
Speaking to CNBC on Friday, US Special Representative for Iran, Brian Hook sought to reject claims that the measure signaled an abandonment of Riyadh.
"Our mission is not at all changed. We're standing with our partners and our allies in the region. We're doing everything we can to protect American interests," he said.
Hook stressed that Washington still views Iran as "a threat" and will continue its regional measures against Tehran.
"Our troop levels go up and down depending on the circumstances, but the mission set is the same. Our mission is not at all changed," he said.
The Trump administration sent up to 14,000 troops to the region last year, dramatically heightening tensions against Iran, and per request of certain Persian Gulf states such as Saudi Arabia.
The deployments took place after Washington blamed Iran for a string of mysterious attacks on oil tankers in the Persian Gulf and for the Yemeni attack on Saudi Aramco oil facilities last September.
Iran has repeatedly rejected the accusations and has condemned the foreign military deployments.
Many US observers have consequently suggested that the recently announced Patriot withdrawal marks a reversal of Washington's large military buildup against Iran.
Speaking on Friday, US Secretary of State Mike Pompeo tried to downplay the measure as a "normal rotation of forces".
"Those Patriot batteries had been in place for some time. Those troops needed to get back," Pompeo said.
Why is US removing missile systems from Saudi Arabia?
The withdrawal has prompted much speculation among observers regarding the reasons behind the sudden withdrawal announcement.
In an article published on Thursday, Responsible Statecraft, a US-based think tank, highlighted the confusing nature of the decision given the Trump Administration's hawkish policies towards Iran.
"While the military characterized the move as part of a planned withdrawal that reflects the view that Iran now poses less of a threat, the news has prompted debate over the timing of the decision," it wrote.
"To suddenly acknowledge that the Islamic Republic is less of a threat than it was previously portrayed to be appears to undermine the case that hawks like Pompeo and Special Representative for Iran Brian Hook have made," it added.
Many sources have, however, suggested that the measure is a result of Washington acting on an earlier threat seeking to force Riyadh to reduce oil production as falling oil prices hurt US companies.  
Washington's growing rift with Riyadh over oil production has also been voiced by Trump's Republican allies in Senate, which had previously sought to pass the Strained Partnership Act.
The proposal was designed to punish the Saudis by withdrawing US troops in order to force Riyadh to reduce its oil output.
The rift between Saudi Arabia and the US over oil production comes as Washington has also warned its Persian Gulf allies against shoring up political and economic ties with China.
Washington has long seen its Persian Gulf allies as valuable venues for capital, using their vast oil revenues to invest extensively in US companies, notably in arms purchases.
Trump has also pushed Riyadh, along with other regional allies, to pay for Washington's "protection" in a number of demeaning statements.
"We protect Saudi Arabia. Would you say they're rich. And I love the King, King Salman. But I said 'King — we're protecting you — you might not be there for two weeks without us — you have to pay for your military,'" Trump said in a speech in 2018.
The derogatory remarks about Saudi Arabia's military capabilities were later echoed by US senator Lindsey Graham, saying the Saudi military "can't fight [its way] out of a paper bag."
"Let me put it this way — I want to be very blunt with you: If it weren't for the United States, they'd be speaking Farsi in about a week in Saudi Arabia," Graham said.