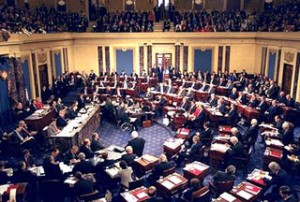 The US Senate Armed Services Committee will hold a hearing to question top military and diplomatic officials about policy toward Iran's nuclear program.
US Undersecretary of Defense for Policy Michele Flournoy; Undersecretary of State for Political Affairs William Burns; General James Cartwright, the vice chairman of the US Joint Chiefs of Staff; and the head of the Defense Intelligence Agency, Lieutenant Ronald Burgess, will testify at the hearing that will be held on April 14, AFP reported.
The planned hearing comes as the US has stepped up its efforts to impose new sanctions on Iran over its nuclear program.
Iranian Foreign Ministry Spokesman Ramin Mehmanparast stated on Tuesday that despite mounting pressure, Iran is determined to continue its nuclear activities.
"Sanctions and resolutions have not had and will not have an impact on our work," Mehmanparast said.