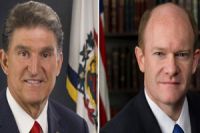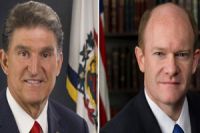 According to Press TV, a new anti-Iran sanctions bill introduced by hawkish lawmakers in the US Senate is losing steam as at least two Democratic cosponsors of the bill have warned against the consequences of a vote on it.
Senators Joe Manchin and Chris Coons have warned that a vote on the anti-Iran bill on the Senate floor would have serious consequences for the interim deal reached between Iran and five permanent members of the UN Security Council – Britain, China, France, Russia, and the US – plus Germany.
The anti-Iran bill was introduced by Sen. Bob Menendez and Sen. Mark Kirk in mid December but is unlikely to ever get a vote on the Senate floor because key members of the Senate Democratic leadership oppose it.
Iranian Foreign Minister and top nuclear negotiator Mohammad Javad Zarif has already warned that any new sanctions against Iran passed by US Congress would kill "the entire deal" reached between Iran and the G5+1.
According to a new Associated Press-GfK poll conducted Jan. 17-21, 60 percent of the American people back the interim agreement and 47 percent believe it might work.