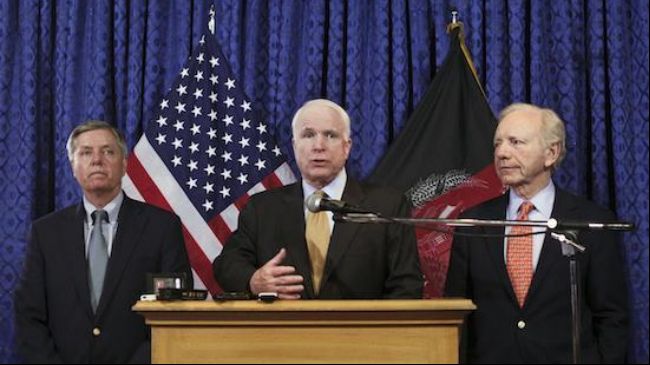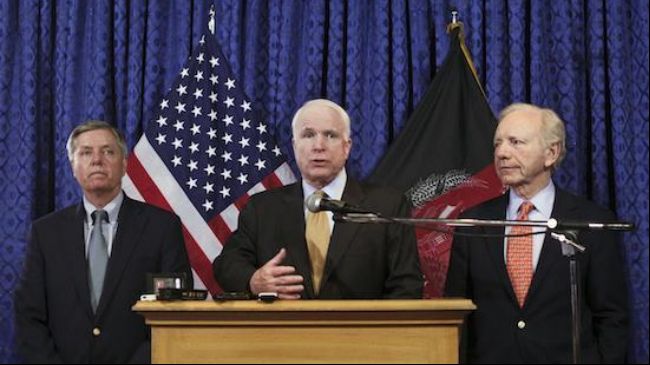 Senior US senators have filed a resolution in the country's senate that calls for equipping Syria's armed groups with weapons.
On Wednesday, Republican Senator John McCain and four other senators including Lindsey Graham and Joe Lieberman, presented the non-binding resolution, which urges the White House to provide the Syrian opposition with "weapons and other material support".
The senators are critical of a six-point peace plan proposed by United Nations-Arab League envoy Kofi Annan as it does not call on Syrian President Bashar al-Assad to step down.
The lawmakers urged US President Barack Obama to take a leadership role over the situation in Syria.
On Sunday, Obama and Turkish Prime Minister Recep Tayyip Erdogan agreed on the need to send "non-lethal" aid including communications equipment to Syrian armed rebels.
On Tuesday, Damascus accepted Kofi Annan's peace plan to end the unrest in Syria.
The peace plan includes a ceasefire, access for humanitarian aid agencies as well as political dialog between Damascus and the opposition.
The Syrian president said on February 20 that "some foreign countries" are fueling the turmoil in Syria by supporting and funding "armed terrorist groups fighting against the government."