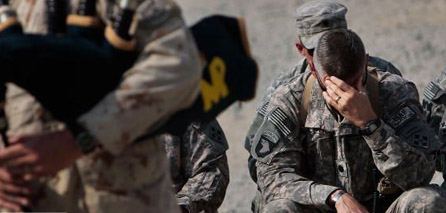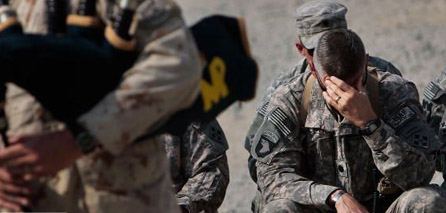 The suicide rate among US soldiers serving in Iraq and Afghanistan has escalated to a record high, with an average of one suicide per day in June.
According to US Army statistics, a total of 32 soldiers took their own lives last month, making it the worst month on record for Army suicides. Twenty-one were on active duty, with the rest being among National Guards or Army Reserve in an inactive status, CNN reported Friday.
Psychologists have blamed renewed deployments and prolonged tours of duty as the major factors contributing to the higher suicide rate.
Last year was the worst for the US Army in terms of suicides with 244 confirmed or suspected cases despite the adoption of a range of initiatives by the army to try to contain the problem.
The US Department of Defense reported that 160 active-duty army soldiers committed suicide in 2009 up from 140 in 2008.
A total of 4,326 American soldiers have been killed in the war-torn Iraq since the US-led invasion of the country in 2003. Iraq has witnessed bombings and terrorist attacks on an almost daily basis ever since.
Iraq has witnessed bombings and terrorist attacks on an almost daily basis since 2003.
Some 140,000 US-led troops are currently stationed in Afghanistan. A further 10,000 are expected to be deployed there in the coming weeks.
McChrystal's replacement does not signal a change in US strategies in Afghanistan. The former commander, citing a letter by US Ambassador to Kabul Karl Eikenberry, has said that should the American strategy fail in Afghanistan, it would be blamed on Afghan President Hamid Karzai.