Economy
North America
World News
US stocks plunge more than 10% over coronavirus pandemic panic
US stocks have plunged more than 10 percent as panic following emergency moves by the Federal Reserve to try to avert a recession due to the coronavirus pandemic that is shutting down global business and travel.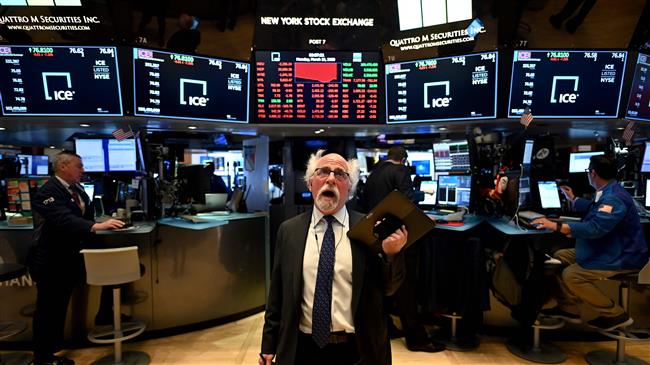 About 25 minutes into trading on Monday morning, the Dow Jones Industrial Average stood at 20,669.42, down 10.9 percent, or around 2,500 points.
The steep losses earlier triggered an automatic shock absorber for 15 minutes. This marked the third time in a week that circuit breakers were set off during regular trading hours following sharp losses.
The S&P 500 sank 10.6 percent to 2,422.69, while the tech-rich Nasdaq Composite Index plunged 10.5 percent to 7,051.77.
Faced with a growing economic shutdown from the coronavirus pandemic, the US Federal Reserve late Sunday announced a series of drastic emergency measures to boost confidence, including lowering interest rates to a range of 0-0.25 percent, where it was during the 2008 global financial crisis.
US Fed slashes key interest rate to 0-0.25% amid pandemicFaced with a growing economic shutdown from the global new coronavirus pandemic, the US Federal Reserve announces drastic emergency measures.
The Fed also removed reserve requirements to allow banks to use cash backstops to meet unexpected funding needs.
"The Fed's actions, while well intended, have had an opposite effect on investor sentiment," said Briefing.com analyst Patrick O'Hare.
"They have generated fear, not confidence, as the spread and scope of their actions resonates now as more of a 'catch-up' action than a pro-active action," he added.
There are now 3,700 confirmed cases of the coronavirus in the US and at least 69 people have died so far, according to data compiled by the World Health Organization, the Centers for Disease Control and Prevention (CDC) and Johns Hopkins University.
American schools have been closed and millions of jobs are in jeopardy as businesses temporarily closed down.
On Sunday, the CDC said events with gatherings of 50 or more people over the next eight weeks should be postponed or canceled.
US President Donald Trump declared a national emergency over the virus on Friday, freeing up additional resources and federal funding of about $50 billion to fight the disease.
The US president has also imposed restrictions on travelers from China, Iran, the Schengen Area the European countries as well as the UK and Ireland.