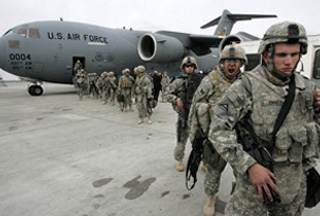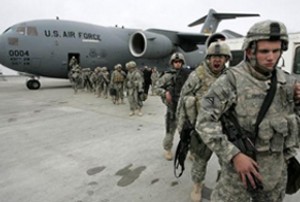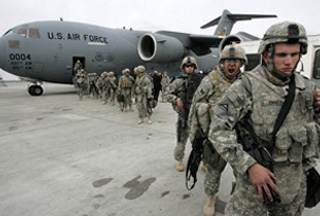 The US has stopped all troop flights to Afghanistan from its controversial air base in Kyrgyzstan, a day after the country's new leadership said it would close the key military base in the country.
No reason was given for the decision taken by the US commanders at the Transit Center at Manas (formerly Manas Air Base), a crucial hub for the US-led operations in Afghanistan.
The US military in Kyrgyzstan decided late Friday "to temporarily divert military passenger transport flights," Major John Redfield, a spokesman for US Central Command said.
Decisions on continuing other military flights "will be made on a case-by-case basis," he said.
Rickardo Bodden, another spokesman for the US military base, told Reuters that "while normal flight operations at Manas had resumed on Friday, a decision was taken Friday evening to temporarily divert military passenger transport flights."
Pentagon officials say Manas is central to the war in Afghanistan as about 50,000 US-led troops passed through the base last month alone.
The developments come amid political upheaval in the strategic Central Asian state. The opposition, led by ex-foreign minister Roza Otunbayeva, has taken power and dissolved the parliament. Otunbayeva has promised a new constitution and a presidential election at some point in the next six months. She says a care-taker government will serve as both presidency and parliament for now.
On Saturday, members of Kyrgyzstan's self-proclaimed new leadership have announced their plans to shorten the Pentagon's lease on the base at Manas International Airport near the capital Bishkek.
This comes as mourners in Bishkek are to say their last farewells to some 75 people killed in the uprising in recent days.
The unrest has also left more than 1,500 wounded.