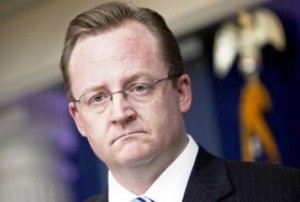 US President Barack Obama plans to name a "czar" who will monitor the long-term recovery plan for the states affected by the BP oil spill in the Gulf of Mexico.
Appearing on ABC television's "Good Morning America" on Tuesday, White House Press Secretary Robert Gibbs announced that Obama in his Tuesday night televised address is going to appoint "somebody that will be in charge of a recovery plan, putting a recovery plan together… when we get past the cleanup and response phase of this disaster," AFP reported.
Gibbs added that "the president will outline tonight… a plan going forward, to restore the Gulf — not to where it was the day this accident happened, but to restore this Gulf to where it was years ago."
The US president has returned from his fourth visit to the crisis zone and is preparing himself for his first oil spill address on Tuesday.
An explosion at the Deepwater Horizon offshore rig left 11 workers dead on April 20, causing the worst environmental crisis in the history of the United States.
In its latest estimates — after several revisions — BP put the amount of oil gushing into water everyday at 40,000 barrels. However, independent sources put the flow at a rate of 70,000 barrels per day.