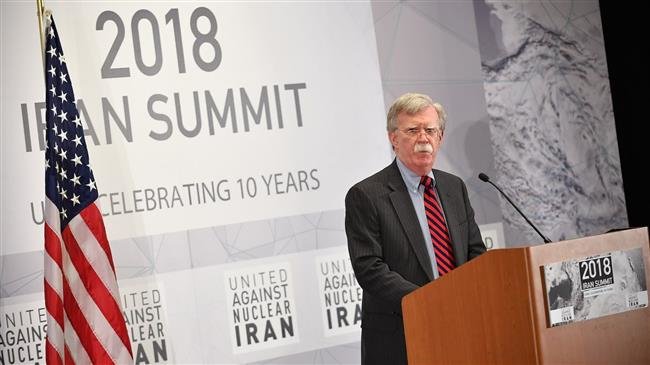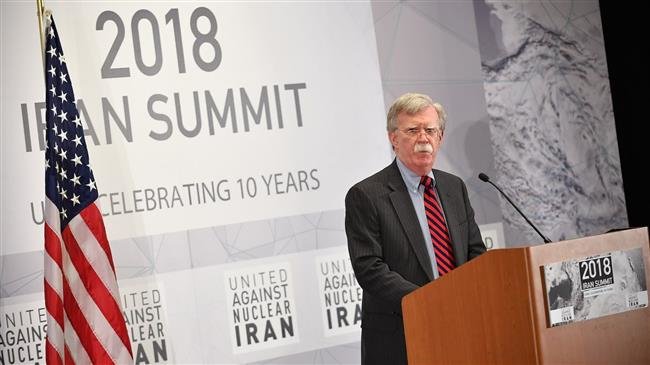 US national security adviser John Bolton says his country will keep up pressure on Iran after imposing new sanctions on the Islamic Republic early this month.
Bolton said on Tuesday that Washington's ultimate aim was to zero Iran's oil exports despite backing down on the pledge after eight importers were given waivers when the sanctions took effect on Nov. 5.
"The objective has been from the beginning to get oil exports from Iran down to zero," Bolton said. "It is our intention to squeeze them very hard. As the British say: 'Squeeze them until the pips squeak'."
US Secretary of State Mike Pompeo has threatened to "starve" Iranian people, with prominent American thinker Ron Paul saying Monday that the threat was a rare instance of truthfulness in America's foreign policy.
China, India, Greece, Italy, Taiwan, Japan, Turkey and South Korea are the eight countries that have been exempted from the US sanctions.
Iran's Minister of Petroleum Bijan Zangeneh said last week that the waivers were not enough, warning of "painful months" ahead for consumers because of insufficient supplies.
Zangeneh said the Trump administration has "artificially" brought down oil and gasoline prices ahead of midterm elections by coordinating an increased draw in US crude inventory, but the prices will "naturally" move up in the coming months.
Other Iranian officials have said US claims of bringing Iran's oil exports down to zero and replace it with Saudi oil are a bluff.
Iran says the US can never prevent it from selling crude oil to international clients, stressing that no other supplier can substitute the kind of oil it provides to overseas markets.
"It is a lie that Americans tell the people of the world that Saudi Arabia and some other countries would replace Iranian oil," Vice President Es'haq Jahangiri has said.
On Monday, Riyadh unveiled plans to cut its oil production by 500,000 barrels per day from December.
Saudi Arabia's Energy Minister Khalid al-Falih also called for a global output cut of one million barrels per day to re-balance the market, drawing a veiled warning from US President Donald Trump.
"Hopefully, Saudi Arabia and OPEC will not be cutting oil production. Oil prices should be much lower based on supply!" he said on Twitter.
The Trump administration is under pressure after Republican losses in the midterm elections. It is extremely wary of any threats to the economy, including higher gas prices.
In June, Saudi Arabia persuaded fellow oil producers to end 18 months of production cuts and pump more crude as demanded by the US, drawing a harsh rebuke from Iran.
Iran's minister of petroleum says Saudi Arabia has submitted to US pressure, violating an OPEC agreement reached in June not to raise production.
According to energy analyst Phil Flynn, OPEC leaders are angry Trump "duped" them into raising production ahead of the Iranian sanctions.
Trump's efforts to influence oil production threaten to further strain relations with the Saudis, even as his administration continues to describe Riyadh as a crucial partner, Bloomberg wrote.
And by pushing for zero Iranian oil exports, the Trump administration is putting itself between a rock and a hard place which explains why Iranian officials' dismissal of the US threat as a bluff makes sense.
Iranian officials, meanwhile, say the country will bypass sanctions and sell its oil even without the exemptions because so many countries are on its side.
Many analysts agree. "Iran's situation is better than pre-2016 because of high oil prices and the fact that the US is isolated this time," Reuters quoted a European diplomat as saying last week.
A European diplomat says the high oil prices and the US' international isolation would lessen the impacts of new US sanctions on Iran.
"It will be a difficult period but Iran's economy will withstand it for various reasons, including the fact of Russia being under US and EU sanctions, Saudi Arabia having its own financial and political issues, and trade war between China and the United States," the news agency said, citing a second diplomat.
On Sunday, Iran sold 700,000 barrels of crude oil to private companies for export in a second round of sales aimed at countering the US sanctions.
A senior army official also said Iran's armed forces were ready to protect the country's oil tankers against possible threats after the United States said the ships should not be allowed to dock anywhere because they were a "floating liability".