Latin America
North America
US to use all economic, political tools to oust Maduro: Zionist Pompeo
US Secretary of State Mike Pompeo has warned that Washington will continue to use all economic and political tools at its disposal to oust Venezuelan President Nicolas Maduro.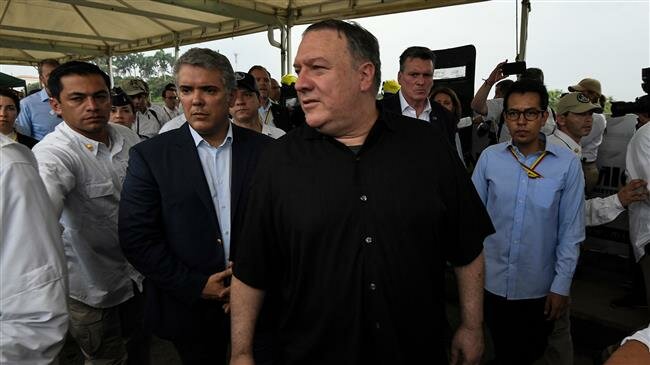 Pompeo made the comments on Sunday in Cucuta, Colombia, near the border with Venezuela, the final stop of a three-day trip to South America, after visiting with Venezuelan migrants at a Cucuta shelter.
The top US diplomat also visited the Latin American countries of Chile, Paraguay and Peru, a region where Washington's concerns are focused on the Venezuelan crisis and China's growing presence.
"The United States will continue to utilize every economic and political means at our disposal to help the Venezuelan people," Pompeo said after visiting with migrants at a Cucuta shelter and touring border bridges and a warehouse storing humanitarian aid.
"Using sanctions, visa revocations and other means, we pledge to hold the regime and those propping it up accountable for their corruption and their repression of democracy," he added.
Venezuela has been in political turmoil since US-backed opposition figure Juan Guaido declared himself "interim president" in January.
The administration of US President Donald Trump has imposed a raft of sanctions against the government of Maduro in an attempt to remove him from power.
Critics have warned that heavy sanctions could hurt ordinary Venezuelans, already suffering from hyperinflation and food and medicine shortages.
The Trump administration has also threatened to use military force to topple Maduro.
During his trip, Pompeo has mirrored previous US criticism of China's growing presence in Latin America, warning of "predatory" lending practices and "malign or nefarious" actions.
On Sunday, a top Venezuelan official ridiculed Pompeo's visit to the border.
"Confirmed: Washington and Bogota ratify Cucuta as the regular stage for their most decadent and cheap spectacles," Foreign Minister Jorge Arreaza said in a message on Twitter. "In the meantime, the abandoned people of Cucuta continue to live off the Venezuelan economy."