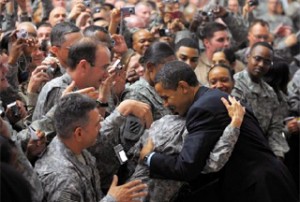 The US decision to assign another 30,000 soldiers to Afghanistan is politically motivated, says American politician and renowned anti-war activist, Medea Benjamin.
President Barack Obama announced on Tuesday the surge in American troops in Afghanistan, saying the additional forces would be deployed in the first part of 2010.
"Sending 30,000 more troops is really a political decision to make Obama look tough on security, to try to quiet some elements of the right in this country," Benjamin told Press TV.
"But, in terms of a war strategy, it really does not make any sense," added the former Green Party candidate and co-founder of the female-dominated advocacy group Code Pink.
The commander-in-chief has devised a six-month timetable for the surge, said one US official on Tuesday on condition of anonymity, the AFP news agency reported.
There are currently around 110,000 American and other foreign soldiers deployed in Afghanistan under the US command.
Afghanistan is nevertheless grappling with nine-year-high violence. Many thousands of Afghan civilians have died in the crossfire between the US-led forces and the Taliban or as a result of miscalculated attacks on alleged militant lairs.
A CNN-commissioned poll recently showed that 49 percent of Americans objected to further troop deployments. Vocal opposition against the surge has also risen within the president's former party.
"It really does not make any sense. When you talk to these counterinsurgency folks, they will tell you that…hundreds and hundreds of thousands of troops would be needed for a counterinsurgency strategy," Benjamin had said earlier in her remarks.
The campaigner represented the Green Party in Senate elections in 2000.
As a co-founder of the Code Pink, Benjamin and her co-activists advocated winding down of the Iraq war, preventing new hostilities and channeling the federal budget into "healthcare, education and other life-affirming activities".