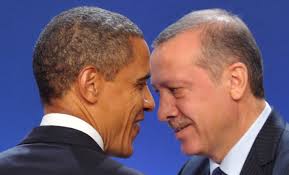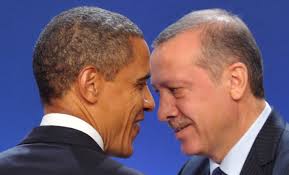 The recent deployment of US fighter jets in Turkey under the pretext of fighting ISIL terrorists in Syria is a "subterfuge" conducted by Washington and Ankara to overthrow Syrian President Bashar al-Assad, an American analyst says.
"On the surface it looks like we are going to be using the aircraft to go after Daesh (ISIL) fighters. The Turks, however, have shown a propensity in exchange with that agreement to go after Kurds in Syria who have been the ones on the ground going after ISIL," Michael Maloof, a former Pentagon official, told Press TV on Sunday.
"What's particularly startling about all this is that all of this appears to be subterfuge ultimately to go after the Syrian government and topple the Syrian government," the analyst maintained.
The US mission to NATO announced on Sunday that half dozen US Air Force F-16s have landed in Turkey's Incirlik Air Base following the recent agreement between the two countries.
Last week, Ankara announced that it will allow Washington to perform manned flights from its bases to conduct airstrikes against ISIL in Syria.
Maloof, however, said that that there is something fishy about this move as it "was long overdue but it also reflects something a little more insidious as far as the United States and Turkey are concerned with respect to dealing with Syria itself."
"ISIS (ISIL) is secondary," he argued, adding "I say that because of the new revelation by the Defense Intelligence Agency documents that just were revealed that the US and Turkey decided to link up with jihadists and even ISIL fighters in order to go after Assad."
According to declassified Defense Intelligence Agency (DIA) documents, the West, the Persian Gulf countries and Turkey explored "the possibility of establishing a declared or undeclared Salafist principality in eastern Syria" in order to put their own regional policies into play.
"And this is exactly what the supporting powers to the (Syrian) opposition want, in order to isolate the Syrian regime," read the DIA report.
Maloof noted that this approach has been tried and tested by the United States before and yielded terrible outcomes.
"The reality is that it is an approach that we have taken before when we've backed up the Mujahedeen in Afghanistan and it helped create this monster that is now out of control," he said.
"Ultimately what Turkey is attempting to do now is use the troops that they are helping to train ostensibly to go after ISIS (ISIL), ultimately to go after the Assad regime," the analyst reaffirmed.