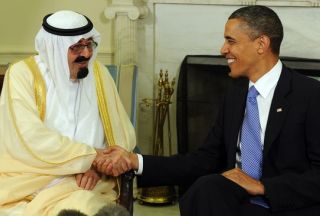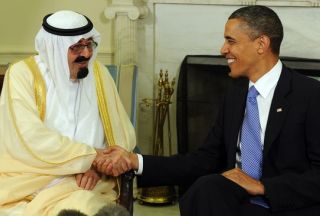 Saudi King Abdullah has held talks with US President Barack Obama as Washington is urging the Mideast powerhouse to take bold action to secure the Palestinian homeland.
Obama, who hosted the king in the White House's Oval Office on Tuesday, said the two leaders also discussed Iraq, Pakistan and Afghanistan.
"We discussed the Middle East peace process and the importance of moving forward in a significant and bold way in securing a Palestinian homeland," AFP quoted Obama as saying.
The call comes amid Washington's effort to mediate peace negotiations between the Palestinians and the Israeli regime.
The US-sponsored talks are, however, likely to fail given Tel Aviv's refusal to halt settlement activities in the flashpoint city of al-Quds (Jerusalem), topped with its lethal attack on a Gaza aid convoy on May 31.
In a later statement about the meeting, the White House said Obama and Abdullah also agreed on the need to renew talks between Israel and Syria, and also Lebanon, respectively.
The White House said the two leaders also emphasized the need for a "secure and prosperous" Yemen, and an "inclusive" Iraqi government.
The 86-year-old Abdullah's visit to Washington was his third meeting with Obama as US president.
Relations between Saudi Arabia and the United States have flourished in recent years despite Washington's criticism of the human rights situation in the Arab kingdom and reports by its state department accusing Saudi authorities of "strictly limiting" freedom of speech and media.