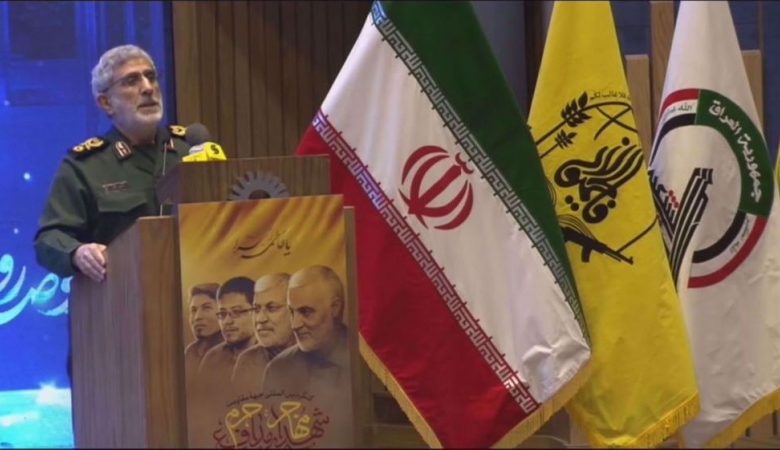 According to Press TV, Brigadier General Esmail Qa'ani made the remarks at a ceremony held in northeastern city of Mashhad on Thursday to commemorate the second martyrdom anniversary of Lieutenant General Qassem Soleimani and his companions.
He stressed that the Americans will be finally expelled from the region as they are facing various problems there while the resistance front is advancing on a daily basis.
"By the grace of God, all Americans will be expelled … from this region," the IRGC's Quds Force commander said. "A considerable number of Americans have been forced out of this region and this will continue. As for Iraq, they must leave Iraq, otherwise; the resistance front inside Iraq will make the Americans miserable and they will have to leave Iraq under more humiliated conditions than what they experienced in Afghanistan and they have no other choice but to leave Iraq."
There are about 2,500 US soldiers and another 1,000 coalition troopers currently based in Iraq.
Qa'ani added that resistance front forces are currently equipped with missiles and weapons which are capable of targeting US warships and carriers anywhere in the region.
Pointing to the 11-day Gaza war in May last year, Qa'ani said Palestinian resistance factions in the coastal enclave fired 3,000 missiles at Israel, 100 of which hit Tel Aviv.
"The Americans built an army for Afghanistan for 20 years but the army could not resist for 20 days, and on the other side of the region, the Zionist regime is building a six-meter wall around its occupied territory, however, In last summer's battle, the resistance [front forces] fired 3,000 rockets from the besieged Gaza Strip at Israel and nearly 100 rockets landed in the regime's capital," he noted.
Qa'ani condemned as the "most cowardly" the assassination of General Soleimani and his Iraqi comrade Abu Mahdi al-Muhandis, the second-in-command of Iraq's Popular Mobilization Units (PMU), along with their companions in a US drone strike authorized by ex-President Donald Trump near Baghdad International Airport on January 3, 2020.