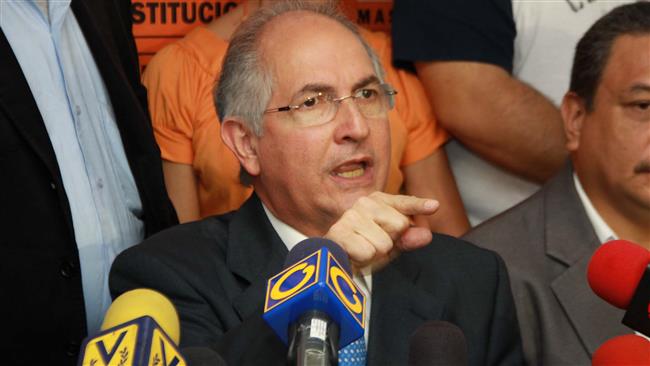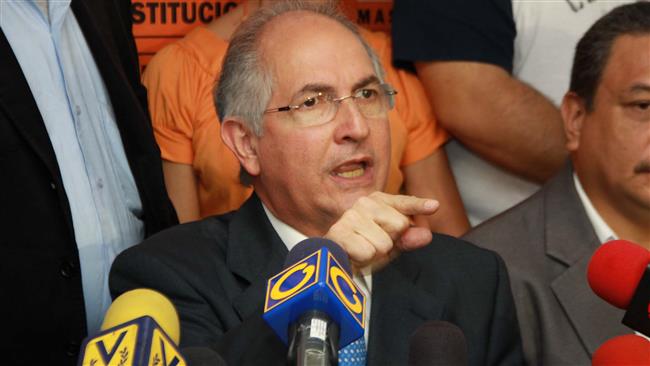 Venezuelan opposition figure Antonio Ledezma has been taken into custody on charges of attempting to overthrow the government of socialist President Nicolas Maduro.
Ledezma, who is the mayor of Caracas, was apprehended on Thursday from his office in the Venezuelan capital on charges of involvement in a coup attempt financed by Washington.
"Mr. Ledezma, who today by order of the prosecution was captured, must be processed by Venezuelan justice to answer for all the crimes committed against the country's peace, security, constitution," the president said following the arrest.
In a televised speech last week, Maduro informed the public of a US-bankrolled plot "to use a group of military aviation officers to provoke a violent event."
He further explained that the plotters, who planned to bomb the capital and other places in the country and assassinate members of opposition parties, had already lined up a "transitional" government and program.
However, the United States has rejected the accusations.
Ledezma is also accused of organizing last year's anti-government protests that left 43 dead.
Caracas has repeatedly stated that the opposition seeks to launch a coup d'état in the South American country with the backing of Washington.
Maduro said last December that he had "recordings" that reveal the US was seeking to corrupt Venezuelan government officials.
On December 3, 2014, Venezuelan opposition leader Maria Corina Machado was charged with being involved in an alleged conspiracy to assassinate Maduro, an allegation which she strongly denied.
Caracas and Washington remain at odds since late Hugo Chavez became president in 1999. Both sides have refused to exchange ambassadors since 2010. The countries have chargé d'affaires running their respective embassies.